XAML Learning Guide: Book Excerpts and Webcasts
This section of the XAML Learning Guide offers a few book excerpts and recorded interviews with some of the .NET development community's foremost authorities on XAML.

TABLE OF CONTENTS


XAML Quick Start

XAML Articles and blog entries

Microsoft's XAML Resources

XAML Book Excerpts and Webcasts

XAML Development Tools

XAML Forums and Community

VISIT OUR OTHER LEARNING GUIDES
| | |
| --- | --- |
| | XAML Book Excerpts and Webcasts |
This section offers a few book excerpts that focus on XAML development in Windows Presentation Foundation and (yes) Windows Workflow Foundation. In addition, it features recorded interviews with some of the .NET development community's foremost authorities on XAML. Having viewed this multimedia content, go on to check out some open-source and commercial XAML development tools.

Download this free guide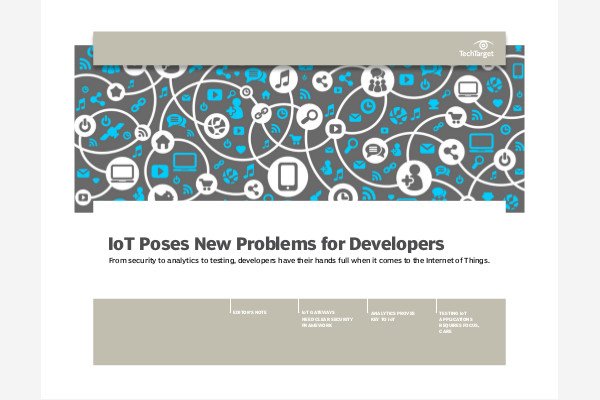 Download: The Developer's Guide to IoT
The IoT world may be exciting, but there are serious technical challenges that need to be addressed, especially by developers. In this handbook, learn how to meet the security, analytics, and testing requirements for IoT applications.
Introducing WPF: Chapter 1 of Essential Windows Presentation Foundation (SearchVB.com)
This book excerpt offers a Windows Presentation Foundation introduction. It covers XAML and details the rich media and visual effects possible with WPF.
Book Excerpt: Authoring workflows using XAML (TheServerSide.NET)
From K. Scott Allen's chapter: "If we have a workflow definition entirely in XAML we can use workflow activation and avoid compilation. Activation is useful when building a large number of dynamic workflows. We merely need to pass the XML into the workflow runtime to have a run-able instance of a workflow."
Book Excerpt: The Basics of XAML (O'Reilly Media)
This chapter from XAML in a Nutshell looks at the language's core syntax, its elements, attributes and attached properties, and its code-behind characteristics.
Webcast: Ian Griffiths on WPF and XAML (TheServerSide.NET)
Ian Griffiths talks about Microsoft's move away from HWND-based user interface development with WPF and XAML. He also discusses some of the differences in approach between WPF and Java's Swing framework as well as his opinions on whether XAML will replace HTML.
Webcast: XAML beyond the basics (MSDN TV)
Chris Anderson and Don Box show how to use the XAML programming model for more than just building UI applications with Windows Presentation Foundation.
Webcast: Home video of WPF presentation at Flash Forward conference (Channel 9)
Karsten Januszewski shows off some of the incredible multimedia features of WPF. The demos start with relatively simple WPF notepad interfaces showing off the ease of using XAML with a text editor. Then they progress to more complex topics.
Webcast: There's Something about XAML (Channel 9)
The folks at Microsoft interview Rob Relyea about XAML's past, present and future, how it works the way it does and why it is designed the way it is.
---
*** Go on to the next section of the XAML Learning Guide: XAML Development Tools
Dig Deeper on .NET Framework development with XML and XAML