Get started
Bring yourself up to speed with our introductory content.
Silverlight tutorial
Silverlight is Microsoft's framework for building browser- and platform-agnostic Web apps. This resource will help developers see what Silverlight can do for them.
Silverlight is Microsoft's framework for building cross-browser and cross-platform rich Internet applications with streaming video, rich text, Ajax functionality and the like. Developers can build Web applications in familiar languages like Visual Basic and C# and in dynamic languages like IronPython and IronRuby.

Download this free guide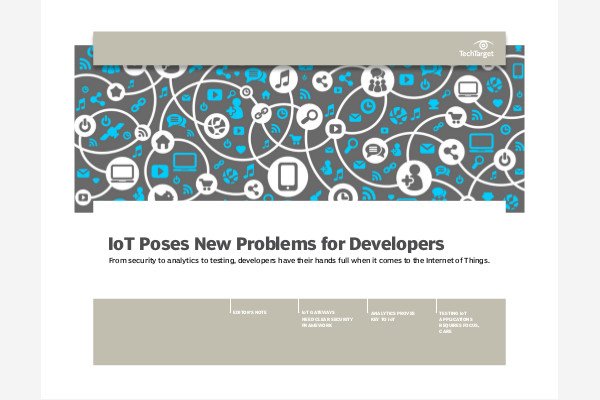 Download: The Developer's Guide to IoT
The IoT world may be exciting, but there are serious technical challenges that need to be addressed, especially by developers. In this handbook, learn how to meet the security, analytics, and testing requirements for IoT applications.
Silverlight garnered much attention at the MIX07 conference, and the buzz has yet to die down. This tutorial defines Silverlight, answers some frequently asked questions, offers some basic reference material and gives you the ins and outs of Silverlight. This tutorial links to a variety of articles, news and samples that will help Web developers see what Silverlight will be able to do for them.
If you have any questions or comments, or if you have any resources that you'd like to add to this learning guide, send us a note.
WhatIs definition: Silverlight
"Silverlight is a programming model for developing and distributing rich Internet applications and a plug-in from Microsoft for delivering media created with Silverlight."
WhatIs definition: XAML
"XAML, Extensible Application Markup Language, is Microsoft's XML-based language for creating a rich graphical user interface."
WhatIs definition: CLR
"As part of Microsoft's .NET Framework, the Common Language Runtime (CLR) is programming that manages the execution of programs written in any of several supported languages, allowing them to share common object-oriented classes written in any of the languages."
Silverlight 4 overview: Ready for prime time
The Silverlight 4 beta release is available for download. Get a quick overview of the new features including Visual Studio 2010 Beta 2, Silverlight Tools for Visual Studio 2010 and Expression Blend for .NET 4 Preview.
Trusted and sandboxed applications in Silverlight 4
Silverlight is a Web technology, or at least is deployed via a browser. To mitigate security concerns, Silverlight is constrained to run in a sandbox. This sandbox restricts what the Silverlight application can do to the local computer.
Q&A: Exploring Microsoft Azure, cloud and Silverlight futures
Software veteran Andrew Brust deals out new insights into the present scene and futurescape of Microsoft Azure, Silverlight and cloud computing. In particular, Brust -- chief of new technology at twentysix New York -- analyzes where Azure is now, whom it is for and what the adoption curve is likely to look like.
Microsoft lightens up to Eclipse for PHP, Azure related application building
Microsoft is working with open source companies Tasktop Technologies and Soyatec on interoperability projects focused on using the Eclipse platform to take advantage of the new features in Windows 7 and Window Server 2008 R2, and improve Java and PHP interoperability with Windows Azure and Microsoft Silverlight.
Dig Deeper on Silverlight and Expression application development