ASP.NET AJAX Control Toolkit Learning Guide
The ASP.NET AJAX Control Toolkit is a set of ready to use Ajax controls and extensions for ASP.NET apps. This reference introduces the toolkit and links to a variety of controls.
One main ASP.NET AJAX selling point is its extensibility. Another is its level of community involvement. These ideas come together in the ASP.NET AJAX Control Toolkit. According to Microsoft, "The Toolkit addresses three needs. First it gives website developers a place to get components to make their web applications spring to life. Second, it gives a set of great examples for those wishing to write client-side code. Third, it is a place for the best script developers to get their work highlighted."

Download this free guide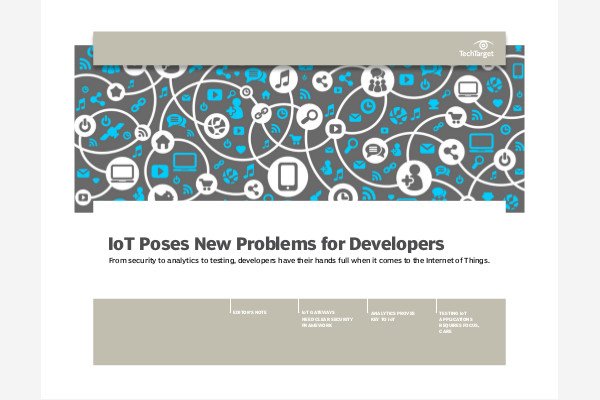 Download: The Developer's Guide to IoT
The IoT world may be exciting, but there are serious technical challenges that need to be addressed, especially by developers. In this handbook, learn how to meet the security, analytics, and testing requirements for IoT applications.
By submitting your personal information, you agree that TechTarget and its partners may contact you regarding relevant content, products and special offers.
You also agree that your personal information may be transferred and processed in the United States, and that you have read and agree to the Terms of Use and the Privacy Policy.
This Learning Guide dives into the ASP.NET AJAX Control Toolkit. It links to resources that will help you get started with toolkit development and to a variety of controls that you can plug right into your ASP.NET applications.
If you come across any resources that should be added to this guide, or if you have written a control that should be included in the list, send me an email and I will update the Learning Guide.
ASP.NET AJAX Controls Quick Start
ASP.NET AJAX Control Toolkit
Go to the ASP.NET AJAX Control Toolkit home page to see all its controls and extensions in action and to grab the code you need to incorporate them into your ASP.NET 2.0 applications. For more source code, installation files and bug tracking, visit the ASP.NET AJAX Control Toolkit page on CodePlex.
Below you will find links to Microsoft's ASP.NET AJAX Control Toolkit walkthrough documents.
Other ASP.NET AJAX Controls
As stated, the ASP.NET AJAX Control Toolkit places an emphasis on the .NET development community. Here we point to controls and extensions that a few bloggers have put together on their own.
ASP.NET AJAX Forums
When using an open- or shared-source framework like ASP.NET AJAX, developer forums are a great place to post questions or comments. The forums below are frequently visited by developers both inside and outside Microsoft and are certainly worth a look.
Dig Deeper on .NET tutorials, guides and quizzes