Problem solve
Get help with specific problems with your technologies, process and projects.
Want some Visual Studio 2008 inside scoop? Check this out
Two of the developers behind Visual Studio 2008 recently discussed the upcoming release on Microsoft Channel 9. Here's what they said -- and why it matters.
Two of the developers behind Visual Studio 2008 recently discussed the upcoming release on Microsoft Channel 9. Here's what they said -- and why it matters.
---
Microsoft is notorious for inundating developers with information and materials, to the point where it sometimes seems like too much of a good thing. I'm not always a fan of their video materials, either, but Microsoft Channel 9 has released an interview with S. Somasegar and Scott Guthrie.

Download this free guide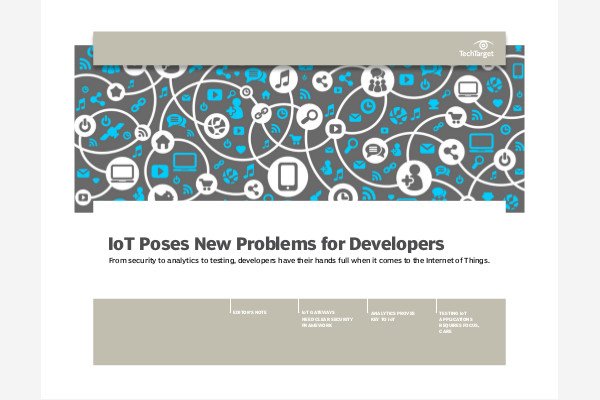 Download: The Developer's Guide to IoT
The IoT world may be exciting, but there are serious technical challenges that need to be addressed, especially by developers. In this handbook, learn how to meet the security, analytics, and testing requirements for IoT applications.
Somasegar, vice president of the Developer Division at Microsoft, and Guthrie, General Manager and developer extraordinaire, dig into the upcoming release and its capabilities in some detail. It's one thing to read about this stuff in relatively dry prose in press releases and documents, but here, some of the leading luminaries in the area shed real light on what's new, interesting and valuable about the upcoming Visual Studio 2008 and the recently released Beta 2 version.
Some of the most interesting tidbits that emerge from this conversation are the following:
Beta 2 is feature complete, so developers can build and explore to their hearts' content.
Microsoft is including a runtime license for use of the beta in production code. This means developers can build projects around the Beta 2 platform and use them in production situations without worrying about licensing issues.
Visual Studio 2008 supports "multi-targeting" of .NET versions so that a single installation instance of VS 2008 can work with .NET 2.0, 3.0 and 3.5 simultaneous (earlier implementations required separate installation instances for each version of the .NET Framework that developers might wish to use).
Visual Studio 2008 now integrates with Ajax. It also lets users employ either IE or Firefox on the client side as well, which makes the environment much more usable in production environments where Ajax and/or "the other browser" are in widespread use.
The VS 2008 LINQ facility has been greatly expanded to support access to XML, SQL (including access to its object relational mapper), and other data sources through query interfaces. This makes it much easier to work with all kinds of data sources inside the Visual Studio environment.
These little nuggets are really just the tip of the proverbial iceberg, as a quick audition of this 26:18 video will show you quite literally. As I said before, I'm not often inclined to gush warmly about MS video materials, but this is one item interested developers won't want to miss.
Ed Tittel is a writer and trainer whose interests include XML and development topics, along with IT Certification and information security. E-mail etittel@techtarget.com with comments, questions, or suggested topics or tools to review. Cool tools rule!

Dig Deeper on .NET Framework 3.5 and Visual Studio 2008 development