Evaluate
Weigh the pros and cons of technologies, products and projects you are considering.
WAPA: What does Microsoft offer now?
Microsoft's Windows Azure Platform Appliance integrates private, hybrid and public clouds.
Industry pundits celebrate hybrid clouds, which unite on-premises and public cloud virtual machines (VMs), while they decry use of the term private cloud to mean ""cloudwashing"" by hardware and software marketers. In reality, the Holy Grail of DevOps is the capability to easily scale Software as a Service applications and migrate them seamlessly between VMs in terrestrial data centers and third-party Infrastructure as a Service (IaaS) cloud services. A legitimate private cloud must provide users with at least self-service provisioning of VMs in a multi-tenant environment, a foolproof billing and chargeback system, and a simple method -- preferably automated -- for scaling apps up or down in response to usage demand. Optional accoutrements -- such as a service bus for secure, reliable messaging between VMs and from VMs to on-premises endpoints; redundant relational and nonrelational data storage; and a standard set of user-selectable machine images with a variety of preconfigured operating system and virtual application software -- increase the service's attractiveness to potential users. This is the feature set offered by today's enterprise-grade public clouds.
Microsoft's Windows Azure Platform Appliance (WAPA) was an early attempt to package the Windows Azure Platform as a Service (PaaS) infrastructure for sale to enterprises who wanted to create cloud-consistent private cloud services, as well as service providers who would market managed multi-tenanted Azure clones. Announced at the June 2010 Microsoft Worldwide Partners Conference with erstwhile partners Dell, eBay, Fujitsu and HP, WAPA was intended for users deploying "hundreds to thousands of servers." By June 2011, only Fujitsu had implemented WAPA; Dell, eBay and HP remained mum on their plans. Microsoft was equally reticent to provide details of further WAPA development.
To make Windows Azure more competitive with Amazon Web Services, the Window Azure team announced in October 2010 the addition of a VM Role preview with Windows Server 2008 SP2 to the original Web and Worker Role compute services. The VM Role made it easier for developers to migrate traditional server-based applications to the cloud without rewriting them for conformance with Azure's PaaS application programming interfaces (APIs). Microsoft retired the stateless VM Role on May 31, 2013, in favor of the stateful Windows Azure Virtual Machines, a full-fledged IaaS offering that entered generally-available (GA) status on April 16, 2013. The Microsoft Server and Cloud Platform Team announced a beta version of Windows Azure Services for Windows Server (WAS4WS) and coined the term Cloud OS in October 2012. Microsoft's Cloud OS was the overarching theme at TechEd North America 2013.
The initial WAS4WS/Cloud OS combined Windows Server 2012 and Service Center 2012 to offer the following: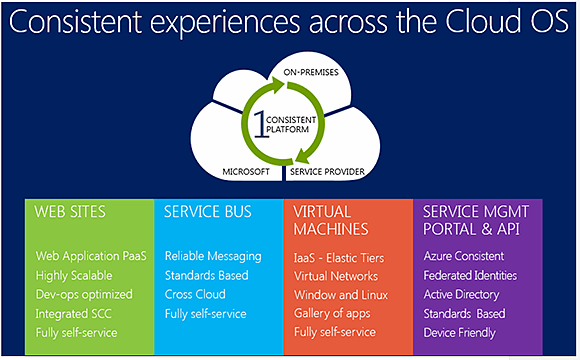 Microsoft Corporate Vice President Brad Anderson announced the migration of WAS4WS to a Windows Azure Pack (WAP) for Windows Server 2012 R2 and System Center 2012 R2 during his TechEd 2013 keynote on June 3, 2013 in New Orleans. Consistency across private, hybrid and public clouds is the watchword for this new release, which will debut as a preview by the end of June 2013 and release to GA before the end of 2013 (see Figure 1). A WAP license is included with System Center 2012 R2 at no additional charge.
Leveraging the Windows Azure Management Portal for DevOps consistency
In the course of provisioning testers and subscribers with PaaS cloud services for more than four years, the Windows Azure Team gained deep knowledge of how to provision the required self-service Azure Management Portal. A cross-platform HTML and JavaScript version replaced the initial Silverlight version, which supported Windows users only, on June 23, 2012. The new portal design has demonstrated exceptional flexibility and scalability. According to Amy Barzdukas, Server and Tools Business general manager, Windows Azure now has more than 240,000 customers and is adding 7,000 new portal users per week.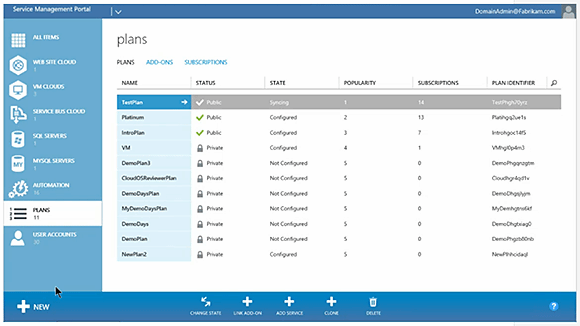 The Service Management Portal for hosters and their users has the look and feel of the Windows Azure Management Portal but offers a different set of navigation links (see Figure 2).
Services provisioned or managed by the portal include the following:
Web Site clouds
VM clouds
Service Bus clouds
SQL Servers
MySQL Servers
Automation
Plans
User Accounts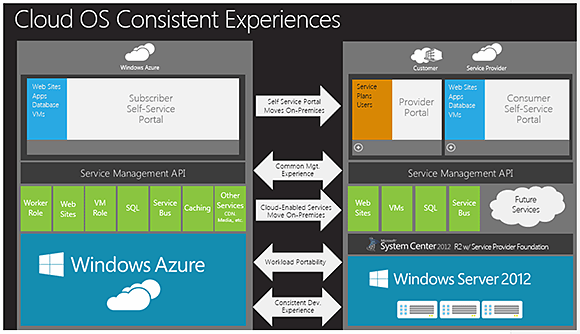 Figure 3 describes the relationships between the current Windows Azure features and Windows Azure Pack for private and hybrid clouds, as well as how the portals maintain operational consistency with System Center 2012 R2's Service Provider Foundation (SPF) framework.
Service provider and consumer personas
Only administrators and delegated tenant co-admins have access to Automation, Plans and User Accounts pages. Users subscribed to a plan will see a My Account choice in the Consumer Self-Service Portal. Enterprise application developers are likely to be WAP's primary initial users because of the ease and low cost of spinning up VMs for testing performance and scalability of multi-tier apps. Table 1 lists the corresponding personnel categories on both sides of the cloud service provider/consumer divide.
| | |
| --- | --- |
| Service Providers | Service Consumers |
| Hoster Executive | Tenant Admin |
| Fabric Admin | App Owner |
| Service Admin | Self-Service User |
Table 1. Job classifications for personnel involved in cloud service provision and consumption.
Fabric Admins are responsible for setting up a central System Server 2012 R2 installation, as well as racking servers and installing Windows Server 2012 R2 on bare metal. Service Admins develop and implement subscription plans with varying scalability levels and features to attract consumers. Service Admins and Tenant Admins maintain the business relationships between providers and consumers, including billing and chargebacks.
In the cloud development scenario, developers are likely to assume all three Service Consumer roles. Enterprises implementing large-scale hybrid clouds are likely to recruit Tenant Admins to assist App Owners and Self-Service Users to manage their subscriptions and control service costs.
Hybrid clouds are the future
Gartner asserted that "[cloud service providers] will continue their journey toward 'enterprise-grade clouds' by using cloud security standards, increased transparency and negotiable SLAs [service-level agreements] to address enterprise IT concerns." In its "2012 Cloud Computing Planning Guide: From Hybrid IT to Hybrid Clouds" research report of November 1, 2011, and followed up with "Hybrid IT: How Internal and External Cloud Services Are Transforming IT" on February 8, 2012, Gartner claimed:
Hybrid IT is the result of combining internal and external services, usually from a combination of internal and public clouds, in support of various business outcomes. Interest from large enterprises in the public cloud has been tempered by adoption risks, leading to architectures that connect internal core services and critical data to external, commoditized services. Hybrid IT relies on new technologies to connect clouds, sophisticated approaches to data classification and identity, and service-oriented architecture. Because of this new IT delivery model, the role of IT and its practitioners is undergoing significant change.
Virtualization and cloud pundit Greg Ness (aka, @archimedius) concluded in his "Microsoft, Azure and the Hybrid Cloud Race" blog post of June 18, 2013:
While Amazon's AWS is the undeniable public cloud leader, and VMware the undeniable private cloud leader, Microsoft's Azure can certainly be considered a hybrid cloud leader, at least at this point in the evolution of the cloud as well as Azure.
With the promise of the Windows Azure Platform Appliance fulfilled for medium and large-scale enterprises and service providers by WAP, Microsoft is well positioned to be the hybrid cloud leader for the next decade, if not longer.