Problem solve
Get help with specific problems with your technologies, process and projects.
Using Validation Controls: Chapter 3 of ASP.NET 2.0 Unleashed
This chapter download describes the six out-of-the-box validation controls in ASP.NET 2.0 and shows readers how to create their own controls.
ASP.NET 2.0 represents a significant upgrade from its predecessor. Along with 50 code-reducing controls, ASP.NET 2.0 offers a simper data-binding model, membership and role services for greater application security, master pages and themes for faster design and a variety of navigation improvements.

Download this free guide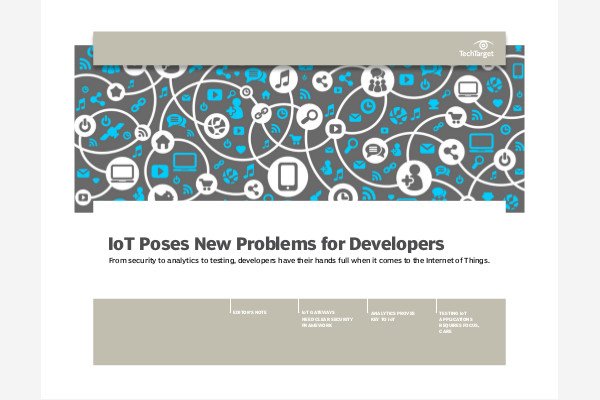 Download: The Developer's Guide to IoT
The IoT world may be exciting, but there are serious technical challenges that need to be addressed, especially by developers. In this handbook, learn how to meet the security, analytics, and testing requirements for IoT applications.
By submitting your personal information, you agree that TechTarget and its partners may contact you regarding relevant content, products and special offers.
You also agree that your personal information may be transferred and processed in the United States, and that you have read and agree to the Terms of Use and the Privacy Policy.
Steven Walther's ASP.NET 2.0 Unleashed is a revision of his previous work for the initial ASP.NET. This new reference checks in at nearly 2,000 pages and is divided into 10 sections, which cover topics such as data access, components, security and Web parts. The final chapter shows readers how to build a sample e-commerce application.
In Chapter 3, Using the Validation Controls, Walther provides an overview of ASP.NET 2.0's six out-of-the-box controls -- RequiredField, Range, Compare, RegularExpression, Custom and ValidationSummary. That is followed with a tutorial on creating custom controls. Both VB and C# sample code is provided.

Read the rest of the excerpt in this PDF.
---
Excerpted from the Sams Publishing book, ASP.NET 2.0 Unleashed (ISBN 0-6723-2823-2) by Stephen Walther.
Copyright © 2006. Published by Addison-Wesley Professional. Reprinted with permission.

Dig Deeper on ASP.NET development best practices