Problem solve
Get help with specific problems with your technologies, process and projects.
Try the Microsoft Download Center -- now powered by Silverlight
A beta version of the Microsoft Download Center is now powered by Silverlight. The new UI, combined with the resources therein, makes it worth a look, Ed Tittel reports.
If you're running Windows Vista and you visit the Microsoft Visual Studio home page some time soon, you'll be invited to join up for the Silverlight Beta. It's a 3.7 MB download, takes very little time to download and install, and caused no noticeable stability or behavior problems on a test Windows Vista Ultimate installation for me. In turn, this lets you access a beta version of the Microsoft Download Center, as shown in the screencap below. (Click on the thumbnail to see a full-size image.)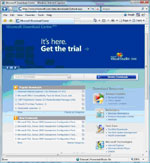 What's interesting about this reworked version of the Microsoft Download Center is that it features animated banners (we picked the one for Visual Studio 2008 deliberately) that provide live download links for the products depicted and described therein.
You also get some pretty cool Silverlight-based download browsing tools, including alphabetical listing by product names (Products A-Z) and by Categories (Windows, Office, Business Solutions, Developer Tools, Internet & MSN, Games & Direct X, Servers, and Windows Mobile). These provide a more friendly and navigable way to root around inside Microsoft's enormous collection of downloads, and they may even lead you to things you might otherwise miss.
Navigation occurs hierarchically, so that if you pick Developer Tools inside Download Categories, you'll see Microsoft .NET, Visual Studio, Visual Basic and so forth in one hierarchy (POPULAR), and listings for Microsoft Active Accessibbility, Robotics Studio, Software Java for Kit Development and so on in another hierarchy (OTHERS).
You can keep digging down into these hierarchies until you reach leaf nodes, at which point you can access individual download items. For example, with 505 results from a Microsoft .NET Framework search, items are listed in rank order among the entire download collection; Microsoft Network Monitor 3.1 shows up at item six with a ranking of 109).
This reworked beta version of the Microsoft Download Center is definitely worth a test drive. Point your PC at the Visual Studio home page and give it a try!
Ed Tittel is a writer and trainer whose interests include XML and development topics, along with IT Certification and information security. E-mail etittel@techtarget.com with comments, questions, or suggested topics or tools to review. Cool tools rule!