Problem solve
Get help with specific problems with your technologies, process and projects.
Quick system info retrieval
With this function you can return a wealth of information from a single line of code.

Download this free guide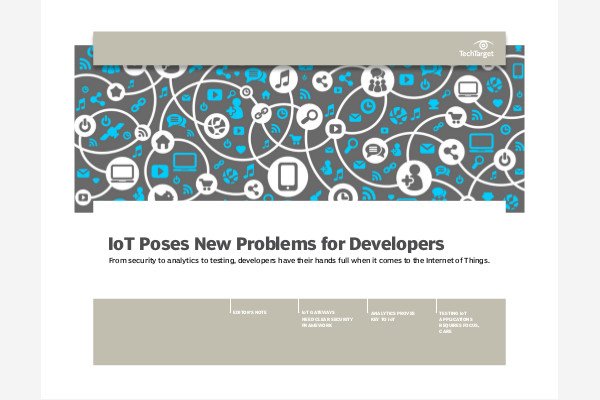 Download: The Developer's Guide to IoT
The IoT world may be exciting, but there are serious technical challenges that need to be addressed, especially by developers. In this handbook, learn how to meet the security, analytics, and testing requirements for IoT applications.

By submitting your personal information, you agree that TechTarget and its partners may contact you regarding relevant content, products and special offers.

You also agree that your personal information may be transferred and processed in the United States, and that you have read and agree to the Terms of Use and the Privacy Policy.

Quick system info retrieval
Kris McCann

Quite often it is necessary to retrieve certain information about the system. I have seen all sorts of API calls to get snippets of information such as the Windows directory, but a lot of people seem to have missed the "environ" function. With this function you can return a wealth of information from a single line of code - and it's fast.



Code: Environ("")

Returns a string, where  can be any of the following:
ALLUSERSPROFILE
APPDATA
CommonProgramFiles
COMPUTERNAME
ComSpec
HOMEDRIVE
HOMEPATH
LOGONSERVER
NUMBER_OF_PROCESSORS
OS
Os2LibPath
Path
PATHEXT
PROCESSOR_ARCHITECTURE
PROCESSOR_IDENTIFIER
PROCESSOR_LEVEL
PROCESSOR_REVISION
ProgramFiles
SystemDrive
SystemRoot
TEMP
TMP
USERDOMAIN
USERNAME
USERPROFILE
windir

If you wish to dump all of the environment variables, this simple piece 
of code will work:

For i = 1 To 26
    Debug.Print Environ(i) & vbCrLf
Next i


------------------------------------------------------
Thanks, Kris. For your interest in SearchVB, we'll be sending you a free denim shirt.

Kris McCann is a Senior Programmer/Designer for Europa Systems Ltd, located in Vancouver, BC, Canada.

He has been programming in basic since 1987, and first picked up VB back in '93. He has been programming in VB/VBA on a professional level since 1997, and currently works for Europa Systems Ltd. in Vancouver, Canada specializing in web application design and development.
------------------------------------------------------
Special Bonus Tip

Get quick access to your source code
Frank Silva

This is really more an organizational tip than a true VB tip, but it has helped me greatly, especially in the field. By saving my code snippets as Outlook Notes, I am able to download them to my Palm Pilot. Therefore, anywhere I go, I can have access to my source code.

Dig Deeper on Win Development Resources