Problem solve
Get help with specific problems with your technologies, process and projects.
Migrating to VB .NET
Checklist for migrating apps to VB .NET.
So you have a lot of VB applications that you're running in your enterprise, and now you want to migrate them to VB.NET. Well, there are several things that you should do. This tip, excerpted from InformIT, talks about the roadmap to migration, and discusses the pre-migration assessment in detail.

Download this free guide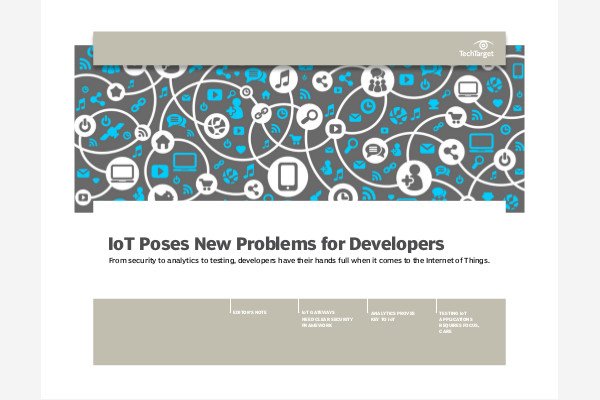 Download: The Developer's Guide to IoT
The IoT world may be exciting, but there are serious technical challenges that need to be addressed, especially by developers. In this handbook, learn how to meet the security, analytics, and testing requirements for IoT applications.
By submitting your personal information, you agree that TechTarget and its partners may contact you regarding relevant content, products and special offers.
You also agree that your personal information may be transferred and processed in the United States, and that you have read and agree to the Terms of Use and the Privacy Policy.
---
Migration of any Visual Basic 6.0 application to Visual Basic .NET requires the following major steps:
Perform an assessment based on project selection guidelines
Perform changes based on pre-migration recommendations (covered in detail later in this chapter)
With the help of the upgrade wizard, upgrade the Visual Basic 6.0 application to Visual Basic .NET
Perform changes based on post-migration recommendations (covered in detail in Chapter 4)
Assessment
Before starting the actual migration process, it is necessary for a developer or project manager to assess the application under consideration. The objective of this phase is to understand the extent of changes required for migration and come up with an appropriate project plan for the migration.
Considering the nature of the application and the amount of changes to be made in the Visual Basic 6.0 application, it can be classified in one of the following three categories:
Applications with the following features are considered simple and can be migrated easily:

Dynamic-link libraries (DLLs)
Application with only Forms or MDI Forms

Applications with the following features can be considered of medium complexity and can be migrated with changes:

Data binding using ActiveX Data Objects (ADO)
Graphics
Menus
Windows API
User controls

Applications that require extensive code changes can be regarded as advanced applications:

ActiveX Dynamic HTML (DHTML) applications
Active X documents
Legacy one-tier Microsoft Access database with DAO or Remote Data Objects (RDO) data binding
Dynamic Data Exchange (DDE)
Object Linking and Embedding (OLE)
Once the Visual Basic 6.0 application has been classified as simple, medium, or advanced, efforts and schedules can be planned for migrating the application. Once the decision to migrate the application is made, the premigration changes are performed in the Visual Basic 6.0 application.
---
To read the entire book chapter from which this tip is excerpted, click over to InformIT. No registration required. No muss, no fuss. Just good info.
Dig Deeper on VB 6 to VB .NET Migration