Problem solve
Get help with specific problems with your technologies, process and projects.
Hashing strings with any algorithm
Cryptographic hash functions ensure than a message was not altered when it was sent over an insecure channel. This C# function generates the hash of a string based on your favorite algorithm.
This tip was submitted to the SearchVB.com tip exchange by member Stefan Prodan. Please let others know how useful it is via the rating scale at the end of the tip. Do you have a useful VB, .NET or Visual Studio tip or code to share? Submit it here.

Download this free guide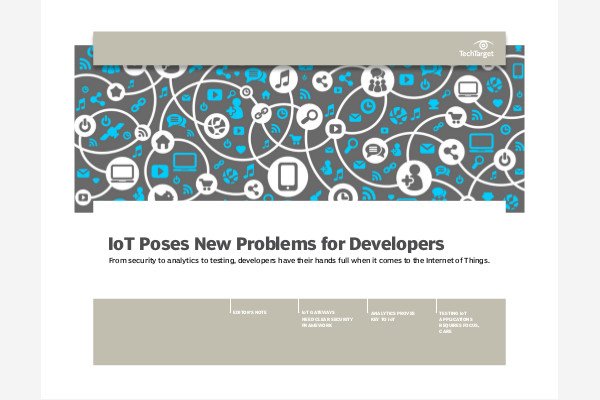 Download: The Developer's Guide to IoT
The IoT world may be exciting, but there are serious technical challenges that need to be addressed, especially by developers. In this handbook, learn how to meet the security, analytics, and testing requirements for IoT applications.
By submitting your personal information, you agree that TechTarget and its partners may contact you regarding relevant content, products and special offers.
You also agree that your personal information may be transferred and processed in the United States, and that you have read and agree to the Terms of Use and the Privacy Policy.
---
When dealing with messages in an application, if the message you are receiving or sending is over a not trusted channel, then you should think about a way to make sure that the message has not been altered. This is why cryptographic hash functions are used.
Here is a function in C# that can generate for you the hash of a string based on your favorite algorithm.

using System;
using System.Text;
using System.Security.Cryptography;

/// <summary>
/// Hash algorithms
/// </summary>
public enum HashType : int
{
    SHA1,
    SHA256,
    SHA384,
    SHA512,
    MD5,
    RIPEMD160
}

public static class Hash
{
    public static string FromString(string input, HashType hashtype)
    {
        Byte[] clearBytes;
        Byte[] hashedBytes;
        string output = String.Empty;

        switch (hashtype)
        {
            case HashType.RIPEMD160:
                clearBytes = new UTF8Encoding().GetBytes(input);
                RIPEMD160 myRIPEMD160 = RIPEMD160Managed.Create();
                hashedBytes = myRIPEMD160.ComputeHash(clearBytes);
                output = BitConverter.ToString(hashedBytes).Replace("-", "").ToLower();
                break;
            case HashType.MD5:
                clearBytes = new UTF8Encoding().GetBytes(input);
                hashedBytes = ((HashAlgorithm)CryptoConfig.CreateFromName("MD5")).ComputeHash(clearBytes);
                output = BitConverter.ToString(hashedBytes).Replace("-", "").ToLower();
                break;
            case HashType.SHA1:
                clearBytes = Encoding.UTF8.GetBytes(input);
                SHA1CryptoServiceProvider sha1 = new SHA1CryptoServiceProvider();
                sha1.ComputeHash(clearBytes);
                hashedBytes = sha1.Hash;
                sha1.Clear();
                output = BitConverter.ToString(hashedBytes).Replace("-", "").ToLower();
                break;
            case HashType.SHA256:
                clearBytes = Encoding.UTF8.GetBytes(input);
                SHA256 sha256 = new SHA256Managed();
                sha256.ComputeHash(clearBytes);
                hashedBytes = sha256.Hash;
                sha256.Clear();
                output = BitConverter.ToString(hashedBytes).Replace("-", "").ToLower();
                break;
            case HashType.SHA384:
                clearBytes = Encoding.UTF8.GetBytes(input);
                SHA384 sha384 = new SHA384Managed();
                sha384.ComputeHash(clearBytes);
                hashedBytes = sha384.Hash;
                sha384.Clear();
                output = BitConverter.ToString(hashedBytes).Replace("-", "").ToLower();
                break;
            case HashType.SHA512:
                clearBytes = Encoding.UTF8.GetBytes(input);
                SHA512 sha512 = new SHA512Managed();
                sha512.ComputeHash(clearBytes);
                hashedBytes = sha512.Hash;
                sha512.Clear();
                output = BitConverter.ToString(hashedBytes).Replace("-", "").ToLower();
                break;
        }
        return output;
    }
}

Dig Deeper on .NET Framework security best practices