Problem solve
Get help with specific problems with your technologies, process and projects.
Choosing Visual Studio 2008 tools and technologies
As Microsoft gears up for the formal launch of Visual Studio 2008, helpful resources keep showing up at the Visual Studio 2008 Developer Center.
As Microsoft continues gearing up for the formal launch of Visual Studio 2008, SQL Server 2008 and Windows Server 2008, now set for February 27, 2008, more and more goodies keep showing up at the Visual Studio 2008 Developer Center. This includes a peachy item, Deciding Which Technologies and Tools To Use, which does as good a job as anything we know when it comes to explaining what to use when building applications or components within the Visual Studio environment.

Download this free guide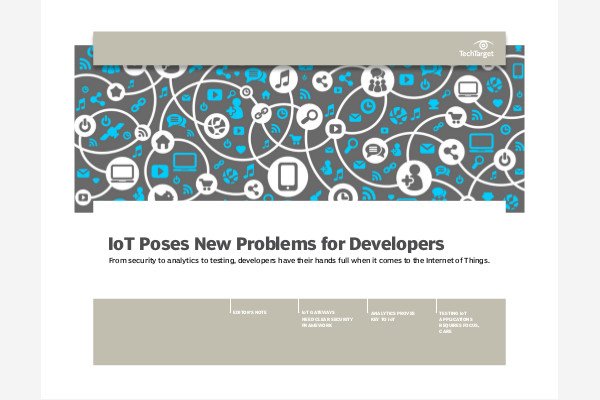 Download: The Developer's Guide to IoT
The IoT world may be exciting, but there are serious technical challenges that need to be addressed, especially by developers. In this handbook, learn how to meet the security, analytics, and testing requirements for IoT applications.

By submitting your personal information, you agree that TechTarget and its partners may contact you regarding relevant content, products and special offers.

You also agree that your personal information may be transferred and processed in the United States, and that you have read and agree to the Terms of Use and the Privacy Policy.

Inside that document, you'll find an outline view of the development process, as practiced and preached by Microsoft, which guides you to and through various tools based on your needs. This view also prompts you into various elements based on your answers to basic questions.

Thus, for example, if you answer yes to the question "Are you building an application with a user interface?" you will find pointers to help you choose between WinForms and Web Forms, as well as an accompanying WinForms Overview and a discussion of Web Site Projects and Solutions.

You'll also find ample coverage of Windows Controls (another time-honored user interface toolset), including WinForms Controls, ASP.NET Web Server Controls, HTML Server Controls, ASP.NET User Controls, and even how to develop custom versions of your own ASP.NET Server Controls.

Next, there's information about Server-based components for user interfaces, including information about monitoring Windows services, monitoring and managing Windows processes, as well as dealing with performance counters and data, event logs, file system events and more.

For applications without interfaces, you'll find information about command line applications and Windows services under an "Executable" heading, and information about XML Web services and .NET components under a "Library" heading.

There are also document hierarchies that address the following topics:
Create a Distributed Application -- this offers a walkthrough of the creation process as well as a document on designing your own such walkthroughs.
Create a Smart Device Application -- this guides you through the development process for Windows CE and Windows Mobile client applications for devices that include SmartPhones and Pocket PCs. There's also coverage of browser-based applications for cellphone use as well.
For data-centric applications, you'll find coverage of dataset and direct access techniques. You'll also find lots of information about Web-based data applications, and WinForms-based data applications, along with smart device-based data applications and Office-based data applications.
Other topics include XML Web services, Office development solutions, custom controls and components, task automation and environment extensions, and more. There's also plenty of discussion of how to build, debu, and test Visual Studio 2008 applications, how to profile and deploy them, and how to upgrade them from previous Visual Studio versions. There's even a complete list of What's New items for all the elements in the Visual Studio 2008 development toolset and environment, so developers can quickly check out what to expect from this pending product set. In short, there's something for everyone in here. Check it out!
Ed Tittel is a writer and trainer whose interests include XML and development topics, along with IT Certification and information security. E-mail etittel@techtarget.com with comments, questions, or suggested topics or tools to review. Cool tools rule!

Dig Deeper on .NET Framework 3.5 and Visual Studio 2008 development