Problem solve
Get help with specific problems with your technologies, process and projects.
Book excerpt: Windows Presentation Foundation and special effects
This chapter introduces developers to Windows Presentation Foundation's custom effects -- brushes, bitmaps, transformations and opacity masks.
Windows Presentation Foundation is Microsoft's latest tool for creating rich client applications in the .NET Framework. Professional WPF Programming: .NET Development with the Windows Presentation Foundation, from Wrox Press, offers experienced .NET developers a look at WPF, demonstrating how to use it, and the design tool Expression Blend, to incorporate audio, video and other rich media into the user interface.

Download this free guide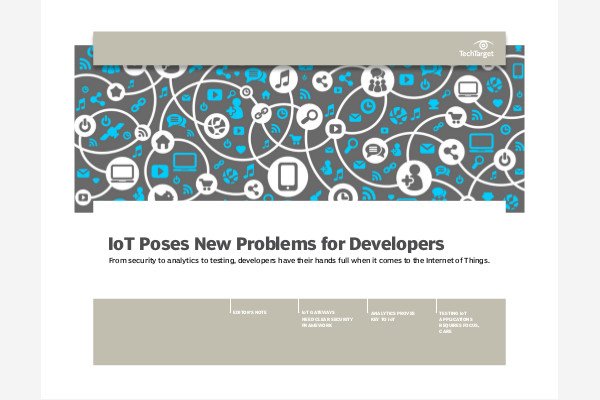 Download: The Developer's Guide to IoT
The IoT world may be exciting, but there are serious technical challenges that need to be addressed, especially by developers. In this handbook, learn how to meet the security, analytics, and testing requirements for IoT applications.
By submitting your personal information, you agree that TechTarget and its partners may contact you regarding relevant content, products and special offers.
You also agree that your personal information may be transferred and processed in the United States, and that you have read and agree to the Terms of Use and the Privacy Policy.
Chapter 6, Special Effects, introduces developers to brushes, bitmap effects, transformations and opacity masks.
Brushes can apply gradients, images and custom drawings in addition to solid colors.
Bitmap effects add drop shadows, blurring and other effects to visual elements.
Transformations can rotate, scale or skew a visual element; animations can be added to transformations as well.
Opacity masks can make it look as though an element is fading into the background or is translucent.
The chapter concludes with a primer on combining the aforementioned effects.

Read the rest of the excerpt in this PDF.

Excerpted from the Wrox book, Professional WPF Programming: .NET Development with the Windows Presentation Foundation (ISBN: 978-0-470-04180-2) by Chris Andrade, Shawn Livermore, Mike Meyers and Scott Van Vliet.
Copyright © 2007. Published by John Wiley and Sons Inc., and available at your favorite book seller. Reprinted with permission.

Dig Deeper on Windows Presentation Foundation