Problem solve
Get help with specific problems with your technologies, process and projects.
Book Excerpt: What's new in Windows Presentation Foundation
Windows Presentation Foundation is a radical departure in interface frameworks. This book introduces it to .NET application developers.
Windows Presentation Foundation is a radical departure in interface frameworks. WPF supports a markup language known as XAML. WPF appears to collect a rich selection of visual capabilities, some of which Microsoft is adapting from its experiences in the world of electronic gaming interfaces. It is designed to enable developers to build application that can readily run on varied delivery systems.

Download this free guide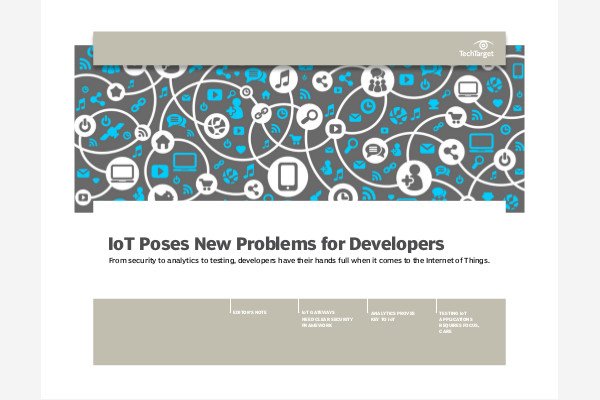 Download: The Developer's Guide to IoT
The IoT world may be exciting, but there are serious technical challenges that need to be addressed, especially by developers. In this handbook, learn how to meet the security, analytics, and testing requirements for IoT applications.
There is much to learn in order to evaluate and understand WPF. The first step is to learn concepts like Dependency Properties and Visual Trees. These are among the points outlined in Important New Concepts in WPF, Chapter 3 of Windows Presentation Foundation Unleashed.
The authors know whereof they speak. Adam Nathan is a senior software development engineer in Microsoft's Developer Division. He is the author of the .NET and COM: The Complete Interoperability Guide (SAMS, 2002), a coauthor of ASP.NET: Tips, Tutorials, and Code (SAMS, 2001). Daniel Lehenbauer is the lead software design engineer responsible for the 3D features in Windows Presentation Foundation.
Note that the publisher of this book did not stint on presentation. As is especially appropriate to the topic, color is used throughout. It may set a trend. Many developers have grown used to viewing code with at least some bit of color codification - the highly readable color view of code in this book may lead some readers to ask for such a presentation in other books on other topics.

Read the excerpt in this PDF file.
---
Excerpted from Windows Presentation Foundation Unleashed (ISBN: 978-0-672-32891-6) by Adam Nathan and Daniel Lehenbauer. .
Copyright © 2006. Published by Sams Publishing, and available at your favorite book seller. Reprinted with permission.

Dig Deeper on Windows Presentation Foundation