Evaluate
Weigh the pros and cons of technologies, products and projects you are considering.
Azure trends: PaaS market on the rise
Microsoft Azure is doing well in the PaaS market as a strong competitor for AWS.
While Amazon has traditionally dominated the cloud services market, Azure is emerging as a strong contender, with pricing reductions, better performance and a host of new features. For example, Microsoft is positioning Azure to be a strong contender in the Infrastructure as a Service (IaaS) market and with new features designed to make it easier to deploy virtual machines (VMs) running existing business applications.

Download this free guide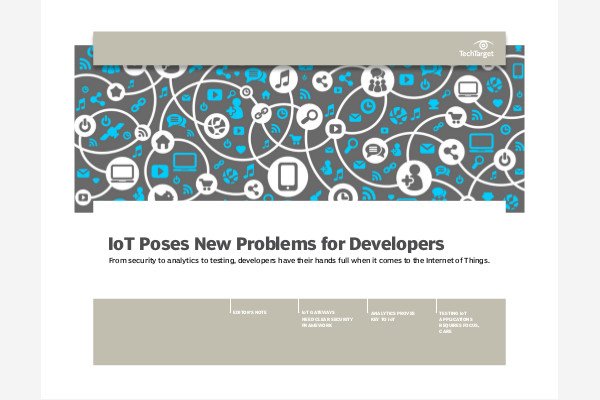 Download: The Developer's Guide to IoT
The IoT world may be exciting, but there are serious technical challenges that need to be addressed, especially by developers. In this handbook, learn how to meet the security, analytics, and testing requirements for IoT applications.
Recent research by Synergy Research Group, a market research firm, estimated that Amazon dominates the IaaS market with 35% of the $1.2 billion spent annually, with IBM, BT Engage IT and Microsoft as distant contenders.
Microsoft Azure has done much better in the Platform as a Service (PaaS) market. Synergy estimates Azure has taken about 15% of the PaaS market compared with 17% for Amazon and 19% for SalesForce.com. However, the PaaS sales have remained a small part of overall cloud services, in which Synergy includes other categories like content delivery networks, colocation services and managed hosting.
Azure's latest features include an expansion of VM functionality that improves IaaS deployment. These new features promise a credible alternative to Amazon Web Services. Aaron Reich, cloud business development executive at Avanade Inc., a managed services provider, believes that in the long run, the notion of PaaS will provide the most benefits. Until that day, improving Azure IaaS capabilities promises to provide a nice transition for existing applications. The IaaS capabilities added last May allow organizations to run both Windows Server and Linux virtual machines.
At the same time, Microsoft has been improving its PaaS market offerings with Azure PaaS products that have better support for authentication, business analytics, Hadoop, media and an integration service bus. The Microsoft PaaS environment promises to improve automated deployments and support a wide variety of programming environments including ASP.NET, PHP and Node.js. Applications can be deployed using FTP, GIT or Team Foundation Server.
Last May, Microsoft released the WebMatrix 3 development tool. It supports better integration with Azure and support for the GitHub code repository. It allows developers to sign on and create 10 sites for free and supports commits, branching, multiple remotes and publishing sites to Windows Azure. The WebMatrix tool previously supported ASP.NET, PHP and Node JS.
Azure's business analytics capability include SQL reporting, a data marketplace and Hadoop. Messaging capabilities have also been baked in with support for Windows Azure Service Bus and Queues.
New pricing model
Microsoft is hoping to attract new customers in the PaaS market with a per-minute pricing model that promises to reduce costs for many cloud deployments. In a recent blog post, Scott Guthrie, corporate vice president in the Microsoft developer division outlined the provisions of this new pricing structure. For starters, when you stop a VM, the meter stops, instead of having to explicitly delete the deployment, while preserving the VM state and configuration. This makes it easier to stop VMs that are no longer being used and then restart them down the road.
In addition, they have rolled out a per-minute pricing model that helps reduce the cost for shorter deployments. This is especially useful for dev/test scenarios said Guthrie. Microsoft has also reduced the cost of spinning up a VM for developers to only 6 cents per hour. Guthrie noted, "This enables you to yield massive cost savings for dev/test scenarios compared to any other cloud option on the market."
Improving media rollouts
Earlier this year, Microsoft rolled out a variety of enhancements for Azure designed to improve the deployment, protection and analysis of media content, such as video and audio. This will make it easier to develop training videos, stream video content to a website or create premium video services like Netflix, said Guthrie. Last year, several broadcasters used Windows Azure Media Services to stream the London 2012 Olympics.
Microsoft has described these new capabilities as a media PaaS. It allows organizations to stream video to HTML5, Flash, Silverlight, Windows 8, iPad, iPhone, Android, Xbox and other clients via different streaming formats. This offering promises to address the complex tasks involved in provisioning and managing a custom distribution infrastructure.
Dynamic packaging allows users to store a single file format and stream to many adaptive protocol formats automatically. The packaging and conversion happens in real-time on the origin server, which results in significant storage costs and time savings.
Building trust
Another new core feature of the Azure platform is support for multi-factor authentication for securing cloud applications. Organizations can secure access to Office 365, Windows Azure, Windows Intune, Dynamics CRM Online and other apps integrated with the Azure Active Directory. It is built on the Phone Factor service that Microsoft acquired last fall and brings it up to par with other cloud providers including Amazon and Google that have previously supported multi-factor authentication.
Multi-tenancy
Another aspect to the Azure ecosystems is support for a multi-tenant architecture. This approach promises to abstract away the implementation and management details involved in deploying a database. However, some developers may need control over these configurations for high-performance applications.
In the Azure approach, the developers' data is replicated across three SQL Server databases. Microsoft manages the physical architecture, load balancing and connection routing to provide support for failover operations and scalability.
Wayne Walter Berry, senior developer on Microsoft SQL Azure, explained, "Even though your applications can run in isolation, you are dependent on the hosting company to provide the physical infrastructure. The performance of your applications is impacted by the load on the data center machines, from other VMs using the same CPU, memory, disk I/O and network resources."
Growing PaaS market competition
Amazon and Microsoft may be leading the way in the cloud computer market, but they face serious competition from other providers down the road. Rackspace is playing a leading role in the IaaS market, but with fewer bells and whistles than Azure. Google is showing promise with its Google App engine, but thus far has not made a serious effort to attract more business developers.
Meanwhile, IBM, HP and VMware are all making efforts to bring more business-oriented developers into the cloud. These companies are focusing on cloud services as an add-on to their other products. While Microsoft may have the best PaaS offering today, only time will tell if it can keep up with these well-funded competitors.
Dig Deeper on Windows Azure development