News
Stay informed about the latest enterprise technology news and product updates.
Quick Takes: Palm it!
Palm powered handhelds to run Visual Basic applications
Palm users will be able to get their hands on VB apps thanks to Atlanta's AppForge.
Palm has gotten a license to distribute AppForge Booster runtime software. Stick it in a handheld using the Palm OS, and watch the Booster software enable you to run VB applications.

Download this free guide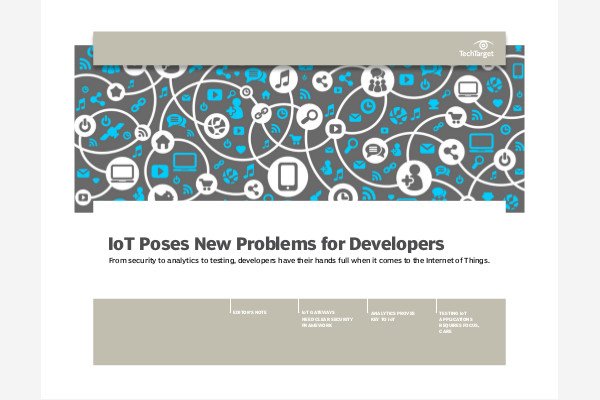 Download: The Developer's Guide to IoT
The IoT world may be exciting, but there are serious technical challenges that need to be addressed, especially by developers. In this handbook, learn how to meet the security, analytics, and testing requirements for IoT applications.
By submitting your personal information, you agree that TechTarget and its partners may contact you regarding relevant content, products and special offers.
You also agree that your personal information may be transferred and processed in the United States, and that you have read and agree to the Terms of Use and the Privacy Policy.
Developers can write software applications for Palm using Microsoft Visual Basic 6.0, and create applications for Palm handhelds without having to learn a new or proprietary language.
Look for the Booster in early 2001 from Palm. You can download Booster and the AppForge developer platform right now from www.appforge.com.
Targeted Beta version delivers first step toward enabling Microsoft .Net client devices
Redmond is getting the "embedded" up and out of the house. Microsoft is issuing the beta 1 release of the next embedded version of Windows 2000, code-named "Whistler Embedded."
Beta 1 is focused on delivering embedded client scenarios, including Windows-based terminals, advanced set-top boxes and retail point-of-sale kiosks.
Whistler Embedded aims to deliver a powerful new set of development and authoring tools including Target Designer, which enables embedded developers to select components from a database of all available Windows components, add them to the run-time configuration and generate the customized operating system image.
There's also a Database Manager that allows embedded developers to bring over their custom-built operating system components to the "Whistler Embedded" database repository.
Got VB-related stuff you want to see in Quick Takes? E-mail the info to Ed Parry, News Editor.
Dig Deeper on Win Development Resources