News
Stay informed about the latest enterprise technology news and product updates.
Microsoft lightens up to Eclipse for PHP, Azure related application building
Microsoft is working with open source companies Tasktop Technologies and Soyatec on interoperability projects focused on using the Eclipse platform to take advantage of the new features in Windows 7 and Window Server 2008 R2, and improve Java and PHP interoperability with Windows Azure and Microsoft Silverlight.
Microsoft took another baby step into the world of open source recently as it announced the first fruits of two separate initiatives to improve Eclipse development on Windows 7. Also covered are Microsoft platforms including Azure and Silverlight.

Download this free guide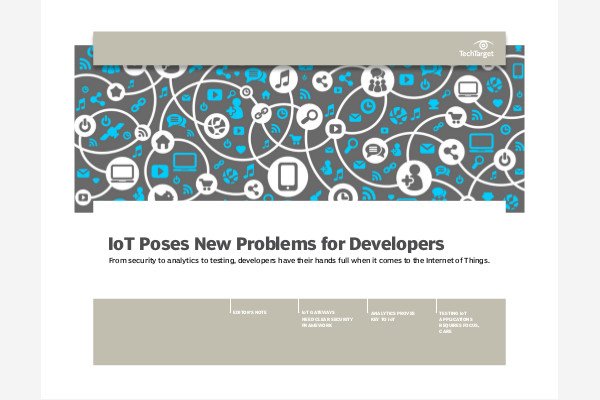 Download: The Developer's Guide to IoT
The IoT world may be exciting, but there are serious technical challenges that need to be addressed, especially by developers. In this handbook, learn how to meet the security, analytics, and testing requirements for IoT applications.

Microsoft is working with open source companies Tasktop Technologies and Soyatec on interoperability projects focused on using the Eclipse platform to take advantage of the new features in Windows 7 and Window Server 2008 R2, and improve Java and PHP interoperability with Windows Azure and Microsoft Silverlight. "For Microsoft, it is another step in their clear trend in being more open and embracing other developer communities," said Mike Milinkovich, CEO of the Eclipse Foundation. "As a developer platform, Eclipse competes with Visual Studio, but they are recognizing that they need to reach out and make sure there are tools that work for their platforms, even if those don't come from Microsoft," he continued. Milinkovich said roughly three-quarters of the Eclipse downloads are for the Windows platform. There are roughly 1 million downloads of Eclipse per month, and various market estimates place the total number of Eclipse developers at between 4 and 6.5 million.

Better look and feel
Eclipse has become one of the leading development tools owing to its strong support and frameworks for Java, PHP, Symbian and other programming languages, noted Mik Kersten, CEO of Tasktop Technologies. But the look and feel has stagnated somewhat as the Microsoft OS evolved, with no significant user interface upgrade since Windows XP.

Tasktop started to work with Microsoft to modernize the look and feel of Eclipse on Windows 7 earlier this year. The first component was improving the progress bar to be able to better indicate the progress of a compile or the launch of the software that is being debugged. A second feature is drop list support, which allows a user to invoke Eclipse specific actions from taskbars.

More platforms
Soyatec is working with Microsoft to make it easier for Eclipse developers to create Azure and Silverlight applications. An open source plug-in released last week, will allow PHP developers to create Web applications targeting the Windows Azure cloud platform. In a separate project, Microsoft and Soyatec have released an Eclipse Java SDK for Azure that helps bridge Java developers to Azure. Both tools include a tool for browsing data stored in Azure tables, blobs or queues.

The Eclipse Silverlight plug-in 1.0 is now available. A CTP was first released last March. It makes it easier to develop rich Internet applications that run on a variety of clients using rest services such as SOAP, JSON, and REST. It also makes it easier to collaborate with designers and developers working with Visual Studio and Expression Studio. The new plug-in will allow Mac developers to better target the Silverlight platform.

Mind the gap
"Visual Studio will still be the tool of choice for developers working on .NET development.," said Kersten. "But if you are developing Java for Windows, there is no simple answer on the best development environment."

Tasktop customers have a mixed environment. They are using Visual Studio and .NET to developer Windows client application, and have some server side components in Java or PHP. This mixed environment is becoming more common with both Eclipse and Visual Studio in use. Microsoft is working to bridge the gap between the Visual Studio and Eclipse because it recognizes that many shops now support both tools, noted Kersten. The one remaining gap lies in integrating both platforms into a common lifecycle management system. Tasktop provides application lifecycle integration for Eclipse through its Mylyn Project and has built integration bridges to support CollabNet, Rally, IBM ClearQuest and ClearCase, and Atlassian JIRA. Kersten said that they are seeing a lot of requests for Eclipse support for Team Foundation Server which would allow mixed teams of developers to better collaborate using two of the most popular development platforms. The Eclipse for Silverlight and Azure tools are available immediately, but developers are going to have to wait until June 2010 for a formal release to include the Windows 7 improvements.

Resources
Microsoft Azure's new Eclipse tie-ins reassure partners

Azure SDK for PHP Azure SDK for Java Silverlight SDK
Dig Deeper on Windows Azure development