News
Stay informed about the latest enterprise technology news and product updates.
Infragistics Silverlight 2.0 chart and gauge components released
Infragistics unveiled chart and gauge components for Microsoft Silverlight beta 2. The company also released Web Slider and Web Hierarchical Data Source controls for ASP.NET AJAX. The 2.0 version of Silverlight is much more usable for developers, according to an Infragistics evangelist.
The Microsoft user interface development environment has changed a lot in recent years as WPF and ASP.NET Ajax extensions joined WinForms and other methods for building front ends. A bigger change came about last year with Silverlight, Microsoft's answer to the Adobe Flash Rich Internet Application (RIA) interface.

Download this free guide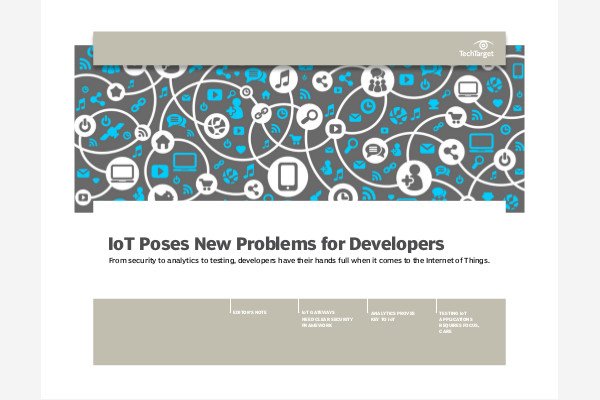 Download: The Developer's Guide to IoT
The IoT world may be exciting, but there are serious technical challenges that need to be addressed, especially by developers. In this handbook, learn how to meet the security, analytics, and testing requirements for IoT applications.
By submitting your personal information, you agree that TechTarget and its partners may contact you regarding relevant content, products and special offers.
You also agree that your personal information may be transferred and processed in the United States, and that you have read and agree to the Terms of Use and the Privacy Policy.
Many developers have tried out Silverlight, but they have had to re-create a lot of useful visual components from scratch. But presentation-layer tool and components makers such as Infragistics are beginning to fill the void.
The company recently released chart and gauge components for Microsoft Silverlight beta 2. The chart control is said to include 28 chart types for forecasting, reporting and the like. The gauges are said to enable a new class of dashboard-style applications where data is displayed in new intuitive ways. Microsoft released the Silverlight 2 beta 2 CTP earlier this month.
Silverlight 2.0 marks a new milestone for Microsoft's RIA answer to Flash. The previous version of Silverlight supported JavaScript development only, making it a bit more akin to JavaScript-intensive Ajax than to familiar smart client development. Silverlight 2.0, on the other hand, supports development with C# and VB .NET languages.
"Silverlight 2.0 makes it much more usable," said Tony Lombardo, leader of the Infragistics evangelist group. "Not too many developers like to be in JavaScript all day. Now, ASP.NET developers can work with it too."
Do developers really need to get so ''flashy?'' Lombardo and others say highly interactive user interfaces have a lot of potential.
"Silverlight is about taking the user experience to the next level," said Lombardo. It also may find use as other Web methods droop under the strains of highly interactive application requirements. For his part, Lombardo says Silverlight may come into play in some places where Ajax is 'maxing out.'
Still, Infragistics is moving on that and other UI fronts too. At TechEd this month it unveiled wizard and preset Web Slider and Web Hierarchical Data Source controls for ASP.NET Ajax, and WindowsForms TreeMap and WinGrid component enhancements that save time required to write validation logic. The Infragistics Sliders are especially interesting because they allow end-users to adjust the parameters of a search (e.g., a request for a flight reservation based on price or departure time) without having to re-input new data by hand.
Dig Deeper on ASP.NET, Ajax and Web application development