News
Stay informed about the latest enterprise technology news and product updates.
.NET Framework Library source code released
The .NET Framework Library source code is now available for viewing, Microsoft has announced. The drop covers Base Class Libraries, certain client libraries, ADO.NET and XML.
The .NET Framework Library source code is now available for viewing, Microsoft has announced.
Programmers can now browse the source code in six categories of .NET Framework 3.5 libraries -- .NET base class libraries, ASP.NET, WinForms, Windows Presentation Foundation, ADO.NET and XML. "We are in the process of adding additional framework libraries (including LINQ, WCF and Workflow)," Scott Guthrie wrote in .NET Framework Library Source Code now available.

Download this free guide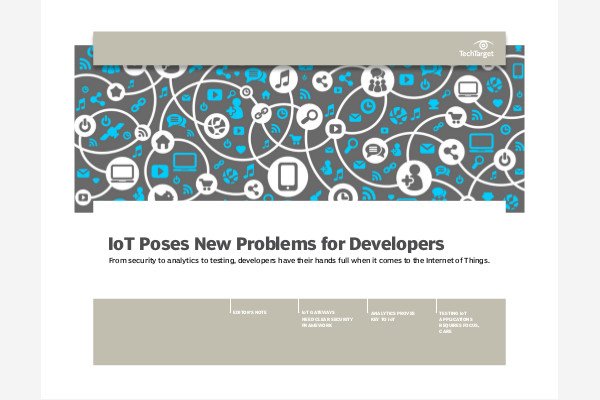 Download: The Developer's Guide to IoT
The IoT world may be exciting, but there are serious technical challenges that need to be addressed, especially by developers. In this handbook, learn how to meet the security, analytics, and testing requirements for IoT applications.
By submitting your personal information, you agree that TechTarget and its partners may contact you regarding relevant content, products and special offers.
You also agree that your personal information may be transferred and processed in the United States, and that you have read and agree to the Terms of Use and the Privacy Policy.
As SearchWinDevelopment.com reported in October, the .NET Framework Library source code release is for viewing purposes only -- that is, the underlying code cannot be changed. The benefit in viewing the underlying code is that it aids the process of code debugging.
It should also be noted that the free Visual Studio 2008 Express editions do not support the source code release.
Shawn Burke has a lengthy blog post that explains Configuring Visual Studio to debug .NET Framework source code. In a nutshell, that process involves installing a Visual Studio 2008 Hotfix, which updates a debugger DLL, and changing several settings. (Note: You'll need a Microsoft Connect account to download the Hotfix.)
Burke's post includes a separate FAQ section, which addresses topics such as what assemblies are available, how to set break points in .NET Framework code and what will happen when Service Packs and Hotfixes are released. On that last point, Burke indicated, "We haven't made any firm decisions on how often we'll publish source and are open to customer feedback on those issues."
In addition to Burke's blog post, Microsoft's Channel 9 features a video in which Daniel Moth walks views through debugging in the .NET Framework. The video lasts roughly 15 minutes.
MSDN has also opened a Reference Source Server Discussion forum that caters to questions about configuration Visual Studio 2008 to use the .NET Framework Library source code.
Dig Deeper on .NET Framework 3.5 and Visual Studio 2008 development