News
Stay informed about the latest enterprise technology news and product updates.
Analysis: The state of Visual Studio Team System
Visual Studio Team System has had some wins in the market, but it hasn't been game changing. Still, our survey results show that development teams want software for more than basic coding -- which is the VSTS vision.
Team-oriented development has been one of the defining trends of software in the last decade.
Three years ago, Microsoft saw that its customers needed to bring more rigor to enterprise software development and began to discuss Visual Studio Team System, a server-based product designed to connect bench-level programmers with architects, testers and project managers. The move came as a slew of enterprise software players rolled out application lifecycle software offerings aimed at teams
VSTS made quite a splash with its formal release in late 2005; however, as its base Team Foundation Server element didn't ship until early 2006, some would debate that release data.
Now Visual Studio 2008 is coming out with new tooling and framework elements, but not a whole of lot of additions to Visual Studio Team System. While VSTS has had some wins in the market, at this point in its trajectory, it hasn't been game changing.
That may be due, in part, to the product's multilayered complexity. When you strip out its modeling, testing and Database SKUs, there's still a set of source control, bug tracking and project statistic elements to consider.
Greg DeMichillie, an analyst at Directions on Microsoft, divides developers into two broad categories of need.
For those in need of source control and bug tracking, VSTS has done well. "It has had a fair bit of use," he said.
On the other hand, for those within development groups that have bought into the idea of tools for automated user interface testing, modeling and the like, Visual Studio Team System doesn't yet exhibit the breadth of offering to be fully competitive with tools from IBM Rational, DeMichillie indicated. And Microsoft hasn't added much since the product's initial release to rectify this issue.
Microsoft's VSTS is still in the early stages of its journey. Its Database SKU has won some favor, and Team Foundation Server has appeared to improve since the first iteration. But the jury is still out on the modeling and testing tools that are part of the VSTS package.
Team time
This fall we surveyed .NET developers and architects from the audiences of SearchWinDevelopment.com and TheServerSide.NET. The combined survey results show that, while coding is the main preoccupation of readers, design and requirements gathering aren't that far behind. The actual penetration of VSTS is fair, but not startling.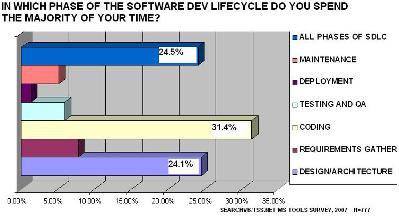 Respondents to the SearchWinDevelopment.com survey on Microsoft tools spend the majority of their time coding. But overall SDLC issues and architect duties are also major areas of focus.
Microsoft's move to encompass development software beyond the realm of straight-ahead code writing therefore makes sense. And Visual Studio Team System penetration isn't negligible; nearly 27% of survey respondents have used or are currently using VSTS. For what many would call a relatively high-ticket item, that's fair progress in just two years on the market.
New wave
"We seem to be seeing a second wave of adoption for VSTS,'' said Martin Woodward, senior software developer at Teamprise, a maker of an Eclipse plug-in that lets Java and Apple developers work in concert with VSTS. "I still think we don't see mainstream adoption yet."
"With the VS 2008 release, it's fair to say VSTS is more of a point release. It's automated build capabilities are substantially better," said Woodward. "It's a typical 'Version 2' from Microsoft … stabilizing what they have."
The Team Foundation Server portion of Visual Studio Team System is gaining traction, according to Woodward. "Mostly people talk about TFS. The DB [SKU] gets a lot of interest, too," he continued. "With the Test [SKU], people are interested, but it doesn't yet live up to what people want."
There are Microsoft shops that have moved to VSTS but may have not fully leveraged it. Many have used about 10% of 'team' functionality.
Carey Schwaber
senior analystForrester Research
TFS in general, and VSTS specifically, represent challenges to the marketing capabilities of Microsoft, whose tools have often been a low-cost alternative. Ovum analyst Bola Rotibi points to this in a recent report called Microsoft: Software development and delivery never had it so good.
Rotibi suggested that the increased costs and complexity of some of the components are a drawback of the team system approach.
"A small team could use Visual SourceSafe, but if they are contracting to a larger customer who wants the entire software history turned over at the end of the project, they have to work with Visual Studio Team Foundation Server," she writes. "Microsoft has targeted this product only at the large enterprise, and has yet to deliver a VS-TFS [light] solution for smaller and more dynamic tools."
What Microsoft does ship, acknowledged Rotibi, is a free five-user limited version of Team Foundation Server in every VSTS client box. That may be good enough for many, but the possibility of hosted commercial versions of TFS is also anticipated.
So what's the status of Visual Studio Team System two years out in the market? Not exactly a Billboard topper yet. But the progress in terms of enterprise space has been fairly rapid. "They have not immediately had a hit with VSTS," said Carey Schwaber, senior analyst at Forrester Research. But, she added, "There are enterprises that are happy with it."
However, larger companies with investments in application life cycle management tools haven't been quick to shift to Visual Studio Team System, according to Schwaber.
And companies that have moved to VSTS may still be trying it out in pieces. "There are Microsoft shops that have moved to VSTS, but may have not fully leveraged it," Schwaber said. "Many have used about 10% of 'Team' functionality."
Microsoft's move to cover the software development life cycle makes sense, and the company is vaunted for its patience in nurturing products until they become hits.
There's also evidence that the need for development tools outside of coding tools is growing. Only 8% of our 2007 SearchWinDevelopment.com respondents said their organizations' difficulties were mostly with coding; 22.7% said testing and QA were most difficult, while a surprising 34.5% said requirements proved most troublesome for their organization. Microsoft is planning to address the requirements conundrum in future VSTS revisions.
We'll always have Oslo
Microsoft recently disclosed an "Oslo" project to enable service-oriented architecture; for now, Oslo is sketchy, but it seems to include a meta data repository and, perhaps, a more unified approach to modeling. Much of its VSTS planning has been oriented toward domain-specific languages. It has tried to move as far away as it could from the Unified Modeling Language, or UML, but its alternatives have yet to establish VSTS as a premier modeling product. '
'With modeling, Microsoft has really struggled to articulate its strategy," said DeMichillie at Directions on Microsoft. "They have spent several years 'dissing' UML in general and have multiple modeling languages for different domains. But they haven't gotten a lot of traction with this."
Is Oslo yet another direction for Microsoft's modeling efforts? There's not much material to go on at this time, so a full Oslo view may have to wait until 2009. The ambition of the original Visual Studio Team System implied a multiyear effort, which seems to be the case, Oslo or no Oslo.
Dig Deeper on Team development with Visual Studio Team System