News
Stay informed about the latest enterprise technology news and product updates.
Microsoft Project Astoria brings data services to Web API battle
Using the Entity Framework, Microsoft's Astoria project provides a level of abstraction that allows developers to work with their own data models when creating applications using data downloaded from Web databases.
Microsoft's Project Astoria has been brewing since this summer. For now, it may best be viewed for what it is – a project, but a particularly interesting one. It is an early attempt to create Web APIs for data access using the Entity Framework data model, expected to ship next year. An Astoria CTP Visual Studio 2008 Beta 2 add-in is available now for those looking to try out the Entity Framework ahead of its release.

Download this free guide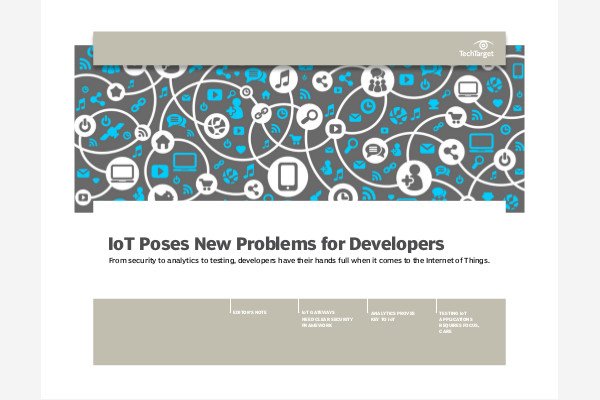 Download: The Developer's Guide to IoT
The IoT world may be exciting, but there are serious technical challenges that need to be addressed, especially by developers. In this handbook, learn how to meet the security, analytics, and testing requirements for IoT applications.
Julie Lerman, independent consultant and proprietor of the thedatafarm.com, discussed the status of Astoria at last week's ReMIX07Boston event. She described Astoria as an efficient way to separate data from its original database schema, thus better enabling simple data access over the Web. Using the underlying Entity Framework, Astoria provides a level of abstraction that allows developers to work with their own data models when creating applications using data downloaded from a remote database.
Astoria is said to support so-called RESTful architecture. The Astoria REST ''protocol'' is composed of a URI addressing scheme, HTTP-based interaction model and payload formats that include XML, JSON and ATOM. The REST method is of increasing interest these days, as Web dynamos like Amazon, Google and others make their data available through Web service APIs over HTTP, and as some developers use AJAX to deliver that data to Web clients.
Free data purveyors such as Amazon, Google and the like have spawned a cottage industry in data mashups, which Microsoft, clearly, is closely watching.
''The Astoria team asked 'how can the data piece be simpler to access over the Web, ''' Lerman said. ''They decided requests for data services should be Web friendly, supporting plain HTTP. ''
Open up the data
The Astoria project does more than just open up the database to the world, Lerman said. As well, it provides layers of abstraction that pare the data away from the actual data store. People shouldn't have to know the original data schema, to work with the data, Lerman told ReMix07Boston attendees. She said Astoria can be viewed as a set of patterns and infrastructure for Web data services.
The data entities Lerman showed at ReMIX07 Boston, using the familiar Northwind DB example, have URIs. So, the act of navigating the data can resemble navigating URLs on the Web.
''With the Entity Data Model, '' said Lerman, ''we can redo the [data] schema on the developer side without affecting the database at all.'' One can, she said, create a schema file that represents a new conceptual model of the data, have another schema that represents the database, and have a mapper between the two.
Lerman also showed how developers can create a JavaScript client to consume the data service. For those that do not want to go the JavaScript route, other clients can be supported as well, she said, mentioning WinForms and Silverlight.
Related

Microsoft Codename '' Astoria'' - Sept 2007 Community Technology Preview Download - Microsoft
What The Heck Is Astoria - Julie Lerman, thedatafarm.com blog
MS Astoria Team blog - MSDN
Dig Deeper on ADO.NET development