News
Stay informed about the latest enterprise technology news and product updates.
The Ajax Experience: Explore Ajax in its many forms
There's more to Ajax than just ASP.NET AJAX. The Ajax Experience, which visits Boston soon, is an event that covers frameworks, scalability, security and more.
Ajax programming takes on many forms. Those in the world of .NET are undoubtedly familiar with ASP.NET AJAX, but there are a plethora of other Ajax toolkits out there as well. All share common concerns, though -- general design practices, scalability, security and trying to figure out what the heck to do with the "Back" button.

Download this free guide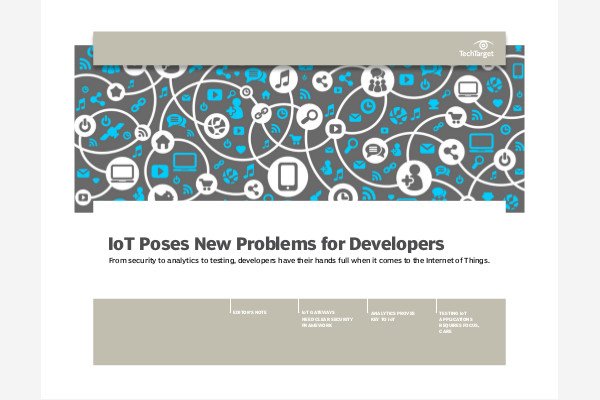 Download: The Developer's Guide to IoT
The IoT world may be exciting, but there are serious technical challenges that need to be addressed, especially by developers. In this handbook, learn how to meet the security, analytics, and testing requirements for IoT applications.
By submitting your personal information, you agree that TechTarget and its partners may contact you regarding relevant content, products and special offers.
You also agree that your personal information may be transferred and processed in the United States, and that you have read and agree to the Terms of Use and the Privacy Policy.
The Ajax Experience, a conference hosted by sister site ajaxian.com, offers Web developers a nice opportunity to brush up on all things Ajax. Admittedly, many of the sessions cater to Java developers, but there is plenty on The Ajax Experience agenda to keep an ASP.NET AJAX developer busy.
Bill Scott, Yahoo's Ajax evangelist, will present some "anti-patterns" for Ajax design and development. There's a similar session called "Ruining the User Experience" by Aaron Gustafson of Easy Designs LLC.
Two enterprise implementations of Ajax will be examined -- one for the popular film-sharing site Netflix, the other for a large American bank.
Douglas Crockford, creator of the JavaScript Object Notification, will lead a talk on incorporating security into Ajax architecture. If such a topic is old hat for you -- and that's likely a big if -- then you ought to check out "Advanced Web Application Security."
You can also expand your horizons a bit and introduce yourself to Ajax frameworks like Prototype, Script.aculo.us, Dodj, qooxdoo and the Google Web Toolkit.
Oh yeah, there will be a cocktail reception, lots of other Ajax developers with whom to network, T-shirts and other assorted bits of swag.
Sound good? Then register for the Ajax Experience, and we will see you Oct. 24 in Boston. Hopefully you will get to enjoy autumn in New England for a bit of your stay.
Dig Deeper on ASP.NET and Ajax development