News
Stay informed about the latest enterprise technology news and product updates.
ASP.NET AJAX released
Microsoft's toolkit for incorporating Ajax functionality into ASP.NET applications has been released. The company is also giving ASP.NET AJAX full product support and will soon release its source code.
ASP.NET AJAX, Microsoft's toolkit for incorporating Ajax functionality into Web applications, has been released. The product, available for download on MSDN's ASP.NET AJAX 1.0 page, incorporates client script libraries into the ASP.NET 2.0 and Visual Studio 2005 server-based development framework.

Download this free guide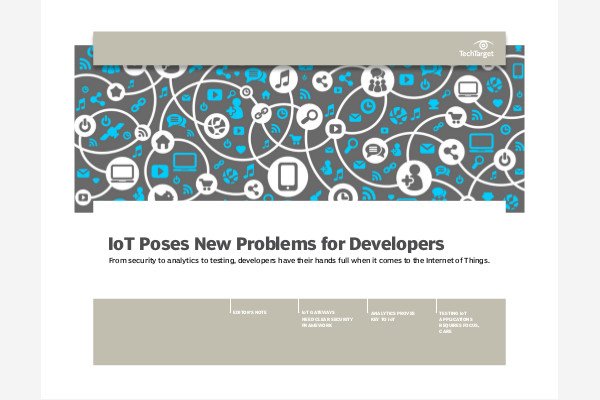 Download: The Developer's Guide to IoT
The IoT world may be exciting, but there are serious technical challenges that need to be addressed, especially by developers. In this handbook, learn how to meet the security, analytics, and testing requirements for IoT applications.
ASP.NET AJAX, code-named Atlas, has been more than a year in the making. It has also been a highlight of recent Microsoft shows. Atlas was first revealed at the PDC 2005, after it was announced at Tech Ed 2005, and at the MIX06 show the Atlas CTP and Go-Live license emerged.
As has been the case throughout the product's life cycle, Scott Guthrie, head of the ASP.NET developer division at Microsoft, announced the release in his blog. Guthrie's post, ASP.NET AJAX 1.0 Released, includes the following bits of news:
Though the product is a free download, it comes with a full Microsoft support license -- 24 hours a day and seven days a week for 10 years.
All source code for the ASP.NET AJAX JavaScript Library and for the server-side ASP.NET AJAX implementation will be released. Microsoft said the source code will be available in a few weeks as a separate download.
All ASP.NET AJAX features will be incorporated into Orcas, the next version of Visual Studio. On top of that, Orcas will include support for JavaScript debugging and JavaScript IntelliSense.
In order for ASP.NET AJAX to make it to market when it did, Microsoft took out some functionality that needed additional work. These features, which are slated for inclusion in Orcas, have been bundled together and are available for download as the ASP.NET 2.0 AJAX Futures January CTP.
New ASP.NET AJAX controls hit the street, too
Part of Microsoft's development strategy for ASP.NET AJAX is community involvement. This is reflected in its ASP.NET AJAX Control Toolkit, which as its name implies is a set of controls that can be plugged into existing applications.
With the general release of ASP.NET AJAX, the toolkit has received a refresh. There are four new controls, including AutoComplete, and more than 75 bug fixes. All controls are available for download on the ASP.NET AJAX Control toolkit page.
A couple bloggers also used the occasion to post their own controls:
Don't forget to upgrade your IDE
Finally, according to Microsoft it is "strongly recommended" that ASP.NET AJAX developers use Visual Studio 2005 Service Pack 1. Additional information about this IDE patch is available on MSDN's Visual Studio 2005 Service Pack 1 homepage.
Dig Deeper on ASP.NET and Ajax development