News
Stay informed about the latest enterprise technology news and product updates.
Ajax Experience highlights the ways to a better UI
Ajax allows developers to confront the constraints hindering Web apps. But speakers at the Ajax Experience said Ajax doesn't always have to be analogous with more complicated.
BOSTON -- "Ajax has created a Web revolution called Ajax. It's caring about how Web sites look and feel." Ben Galbraith described Ajax thusly in the opening keynote for The Ajax Experience, a conference highlighting the effects of Ajax on designing, architecting and programming Web applications.

Download this free guide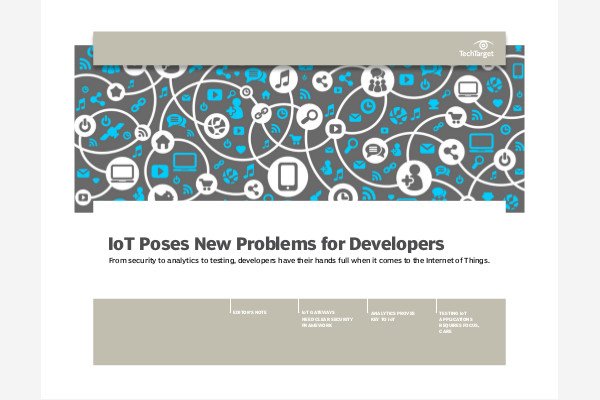 Download: The Developer's Guide to IoT
The IoT world may be exciting, but there are serious technical challenges that need to be addressed, especially by developers. In this handbook, learn how to meet the security, analytics, and testing requirements for IoT applications.
By submitting your personal information, you agree that TechTarget and its partners may contact you regarding relevant content, products and special offers.
You also agree that your personal information may be transferred and processed in the United States, and that you have read and agree to the Terms of Use and the Privacy Policy.
Don't try to be everything to everybody. There's a clear benefit to focusing very narrowly and offering a very specific feature set.
David Verba
director of technologyAdaptive Path
For Galbraith and Dion Almaer -- co-founders of Ajaxian, which hosted the three-day conference along with NoFluffJustStuff -- the emergence of Ajax has reduced that which constrains Web applications. For years client-based applications offered a better user experience. Web apps, thanks to Ajax, are now catching up.

The Ajax Experience focused on making this process of catching up as painless as possible. It begins with Ajax frameworks, which provide common user interface widgets, behaviors, visual effects and, in some cases, JavaScript libraries. (Ajax stands for Asynchronous JavaScript and XmlHttpRequest.)

"If you're going to start on the Ajax path, the first thing to do is choose a toolkit. And there's a lot of them," said Conrad Damon, software architect, Zimbra. A list of popular toolkits appears in the sidebar below.

For .NET developers, the toolkit of choice will likely be ASP.NET AJAX, until recently referred to as Atlas. This free download contains base classes, a component model, a network stack and server-side functionality to integrate with ASP.NET. In addition, there is a shared-source Control Toolkit with Atlas add-ins.

ASP.NET AJAX offers both client- and server-side benefits, according to Brad Abrams, group program manager, .NET Framework, Microsoft.

Client-centric Ajax applications can exploit DHTML and use Ajax for data, services and composition, he indicated. At the same time, the ASP.NET AJAX framework works with existing server application models, allowing developers to keep present UI and application logic on the server. (For more with Abrams, read Abrams on ASP.NET AJAX controls and components on TheServerSide.NET.)

Along with frameworks and toolkits, many presenters at The Ajax Experience focused on what developers can do to improve Web application design.

In a session called "Practical Design for Ajax Development," Sarah Nelson and David Verba of Adaptive Path -- whose president, Jesse James Garrett, coined the term "Ajax" -- offered hints for effectively enhancing Web applications with Ajax.

"An important thing to remember is, don't try to be everything to everybody. There's a clear benefit to focusing very narrowly and offering a very specific feature set," Verba said. As an example he cited Flickr, which eschewed functionality for editing and printing photos in lieu of photo-sharing technology, something its competitors were not doing.

Flickr also served as an example of a well-designed site for Verba and Nelson as well as Jeff Patton of ThoughtWorks, who led a session called "User Experience Distilled." Other noteworthy examples include Blogger and the travel-booking site Farecast.

Patton noted that Flickr features contrasting elements, repetition of elements both within and across pages, vertical and horizontal alignment of elements, and strong proximity, or grouping, of elements.

Together these four principles -- contrast, repetition, alignment and proximity -- form the acronym CRAP. (In this case, one wants a Web site to embody CRAP.)

The speakers referred to additional design principles, such as Garrett's Elements of User Experience diagram and Jakob Nielsen's 10 Usability Heuristics.

Ultimately, though, Patton said Web applications should be intuitive -- that is, users should know how to use them before they are even built. "Don't train your users. Let them discover. Let them learn," he said.
Dig Deeper on ASP.NET and Ajax development