News
Stay informed about the latest enterprise technology news and product updates.
Microsoft's Abrams on ASP.NET AJAX controls, components
As ASP.NET AJAX, formerly known as Atlas, nears its formal introduction, it is a good time to look at that GUI toolkit, and see what value the associated framework brings to the big push toward AJAX. Microsoft's Brad Abrams discussed these and related issues on the first day of The Ajax Experience East 2006 conference in Boston.
This article originally appeared here on TheServerSide.NET.
BOSTON -- A year or so ago, most developers looking to work with Ajax had first to create their own framework for Ajax. It was either that or just throw a bunch of UI components together -- not a great idea. Clearly, Ajax has a server-side element, but action on the client-side has gotten the bulk of attention.

Download this free guide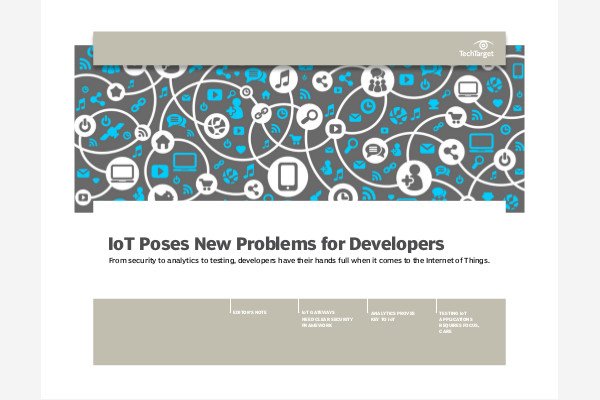 Download: The Developer's Guide to IoT
The IoT world may be exciting, but there are serious technical challenges that need to be addressed, especially by developers. In this handbook, learn how to meet the security, analytics, and testing requirements for IoT applications.

By submitting your personal information, you agree that TechTarget and its partners may contact you regarding relevant content, products and special offers.

You also agree that your personal information may be transferred and processed in the United States, and that you have read and agree to the Terms of Use and the Privacy Policy.

These days, a variety of component sets are available as open-source and commercial frameworks. Among the Ajax frameworks considered at this week's Ajax Experience Conference in Boston were Prototype, Dojo and script.aculo.us. Microsoft has responded to the call for Ajax as well, with a framework called ASP.NET 2.0 AJAX Extensions, known in its gestation period as Atlas.

"We look at [ASP.NET 2.0 AJAX Extensions] as being a framework on the client. So there is a component architecture there," said Brad Abrams, group program manager, .NET Framework, Microsoft. Client-centric Ajax applications can exploit DHTML, use Ajax for data, services and composition, and enable new interactive experiences, he indicated.

But, Abrams also pointed out server-centric benefits of the ASP.NET 2.0 AJAX Extensions as he spoke at The Ajax Experience conference in Boston. In the MS Ajax world, although some interesting bridge demonstrations have been shown using Apache, ColdFusion and PHP, the server-side of Ajax is aimed at ASP.NET developers.

Abrams pointed to the beneficial features of ASP.NET 2.0 AJAX on the serverside, noting that this framework works with existing server application models, allowing developers to keep present UI and application logic on the server.

"Its easier for an ASP.NET developer to use the server-side controls," he said. In a tool demo, he showed use of an Update Panel to compose database connections using familiar drag-and-drop techniques for use by Ajax clients.

ASP.NET 2.0 AJAX supports both client- and server-centric approaches, he said. The software is available for download, and just went to beta last week.
Dig Deeper on ASP.NET and Ajax development