News
Stay informed about the latest enterprise technology news and product updates.
Microsoft 'really simplifying subscriber' apps
RSS in the hands of Microsoft developers may soon become a channel for all kinds of information sharing, Microsoft chief technology officer Ray Ozzie said recently in a blog entry.
RSS in the hands of Microsoft developers may soon become a channel for all kinds of information sharing, Microsoft chief technology officer Ray Ozzie said recently in a blog entry. Familiar as a means for content syndication, XML-based RSS can serve to distribute contact lists, calendars and more, Ozzie said.

Download this free guide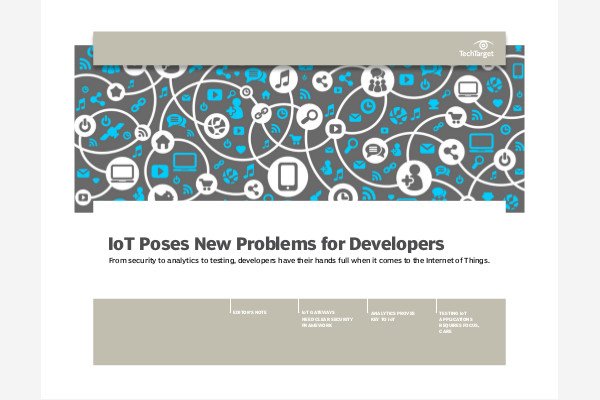 Download: The Developer's Guide to IoT
The IoT world may be exciting, but there are serious technical challenges that need to be addressed, especially by developers. In this handbook, learn how to meet the security, analytics, and testing requirements for IoT applications.
By submitting your personal information, you agree that TechTarget and its partners may contact you regarding relevant content, products and special offers.
You also agree that your personal information may be transferred and processed in the United States, and that you have read and agree to the Terms of Use and the Privacy Policy.
Through the use of a proposed set of Simple List Extensions, Microsoft is planning to open the gate for the sharing of information via RSS. The full fruits should appear along with the next version of Office late next year. But developers can begin to explore new application enhancements using the MS extensions.
A key advantage of the new extensions is that they allow loosely coupled applications to share and replicate data bi-directionally. Microsoft is making these extensions freely available to the community via the Creative Commons license.
Although we have published a great deal of RSS content on various Microsoft properties, we decided it was best ... to deeply integrate RSS in Windows Vista.
Gary Schare
director, IE product managementMicrosoft
Ozzie, the inventor of Notes collaborative software, wrote this in his online blog: "There are many great item synchronization mechanisms out there [and at Microsoft], but we decided we'd never get short-term network effects among products if we selected something complicated -- even if it were powerful. "
"What we really longed for was 'the RSS of synchronization' ... something simple that would catch on very quickly. Notefiles replicate by using a very simple mechanism based on GUID assignment, with clocks and tie-breakers to detect and deterministically propagate modifications. Something like this could easily be represented in XML. Notefiles replicate with one another in a decentralized, masterless manner; feeds could be 'cross-subscribed' in a similar manner."
The first RSS features emerged in the October Windows Vista CTP. That included the Common Feed List, a central repository for all Web Feed Subscriptions, and the Common Data Store, which provides a single store and download mechanism for subscription content.
Microsoft plans to take RSS (Really Simple Syndication) into the heart of the next version of Windows Vista and IE 7 browser with a new set of extensions. This promises to promote the development of publish and subscribe applications on the Windows platform. Over the years, a number of publish and subscribe frameworks have emerged. RSS has emerged as one of the most noteworthy, and is widely used for the distribution of news and audio podcasts.
"Although we have published a great deal of RSS content on various Microsoft properties, we decided it was best for end users, developers and content publishers to deeply integrate RSS in Windows Vista," said Gary Schare, director of IE product management, Microsoft. "Microsoft believes that RSS changes the dynamic of the Internet from simply browsing and searching to subscribing -- the new way of consuming information on the Web. We applaud the great work that has already been done in the RSS community and are excited to participate in its continued success."
The new RSS support promises to open the door for a new generation of publish and subscribe applications. "The RSS support in Windows is the first platform that makes it possible ... to use RSS without having to design a new RSS application from the ground up," Schare said. "This platform is a core set of Windows functionality that will allow any application to take advantage of a common store of subscribed feeds through the Common RSS Feed List. The content of feeds (including podcasts, pictures and other associated enclosures) will be provided through the Common RSS Data Store. Access to seamless synchronization will be provided through the RSS Platform Sync Engine, providing a seamless experience for the developer."
There is always unease in some quarters when Microsoft extends industry standards. Some industry watchers ask if Microsoft is just reinventing the wheel.
More on Microsoft and RSS
Tristan Louis, application development manager at HSBC.com, wrote in his blog, "So Microsoft gets an 'A' for embracing RSS, another A for using namespaces [instead of creating a new version of RSS] and releasing their extension under a Creative Commons license, but gets an 'F' for poor research in terms of introducing a new format. There were a number of other useful things they could have introduced as part of this effort, but just generating lists is attempting to reinvent the wheel without really providing any added value."
A few bloggists have voiced concerns that Microsoft's moves could fragment the RSS standard. Microsoft's Schare counters these contentions.
"RSS standardization has been very successful so far with the community driving it, and we don't want to change a recipe that's working," he said. "For example, when we proposed the Simple List Extensions to RSS back in June, we worked with the community and made changes to the specification based on community feedback."
"Also, the extensions are licensed under Creative Commons, the accepted community license that ensures the broadest possible adoption," he added.
Schare said Microsoft's experience with the community-oriented RSS standard "leads us to believe that the community process works quite well." The company is not actively trying to push RSS toward the W3C or any other standards body, he said.
Related
Ray Ozzie Blog (MSN)
Microsoft takes five steps backwards (Digital Web magazine)
Microsoft loves RSS (Tristian Louis blog)
Dig Deeper on .NET Framework development with XML and XAML