News
Stay informed about the latest enterprise technology news and product updates.
Altova updates XML development tools
Altova reports updates to the company's XML suite, including the introduction of SemanticWorks 2006.
Category: Developer Life Cycle Tool

Description: Altova reports updates to the company's XML suite include VS.NET 2005 integration with XMLSpy, Altova's XML development environment, and Web services construction and implementation features in MapForce, its data-mapping tool. Also of note is SemanticWorks 2006. Based on the idea of the Semantic Web, which sees the Web as a massive database instead of a collection of Web pages, SemanticWorks 2006 lets developers create RDF instance documents, RDF schema vocabularies and OWL ontologies. The software also includes syntax and semantics checking, automatic code generation for RDF/XML files and drag-and-drop development functionality.

Download this free guide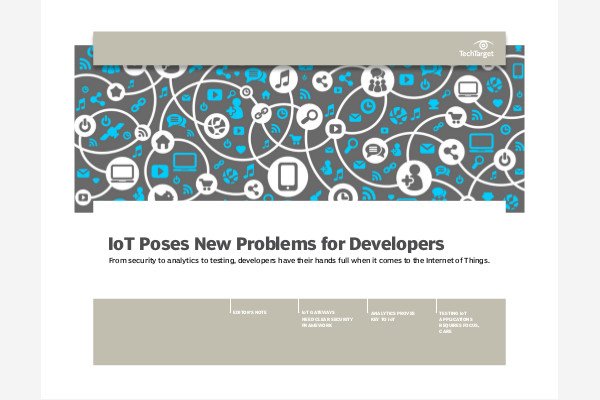 Download: The Developer's Guide to IoT
The IoT world may be exciting, but there are serious technical challenges that need to be addressed, especially by developers. In this handbook, learn how to meet the security, analytics, and testing requirements for IoT applications.
By submitting your personal information, you agree that TechTarget and its partners may contact you regarding relevant content, products and special offers.
You also agree that your personal information may be transferred and processed in the United States, and that you have read and agree to the Terms of Use and the Privacy Policy.
Expert commentary: "Altova's SemanticWorks scores high on the innovation scale by actually doing something about the "semantic Web," as opposed to just talking about it. Standards like RDF and OWL have been around for a while now, but writing RDF and OWL documents has been far too tedious. SemanticWorks makes it possible for mere mortals to do semantic markup, which in turn means that companies can start contemplating making use of this stuff instead of leaving it on the shelf for some nebulous time in the future."
Company URL: www.altova.com
Demo downloads: http://www.altova.com/download.html
Dig Deeper on .NET Framework development with XML and XAML