News
Stay informed about the latest enterprise technology news and product updates.
Office Development Tools Page
Recent stories highlight very interesting client tool doings in the Microsoft camp. Some are collected here.
Office Development Tools Page
What's new in Windows Forms 2.0?
When developers sit down with the new Visual Studio 2005, a variety of Windows Forms improvements will greet them. Such advances can provide a better framework for client development. 11/06/2005

Download this free guide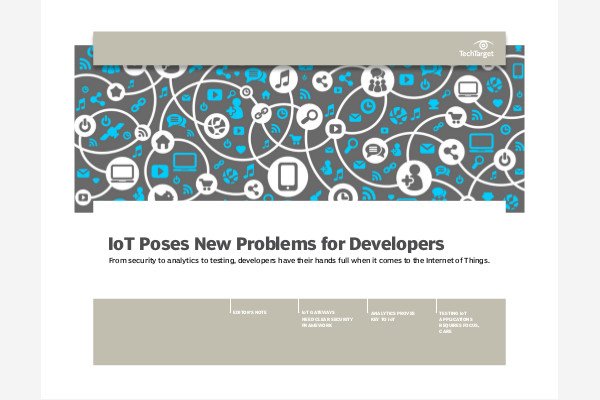 Download: The Developer's Guide to IoT
The IoT world may be exciting, but there are serious technical challenges that need to be addressed, especially by developers. In this handbook, learn how to meet the security, analytics, and testing requirements for IoT applications.
Views on building .NET smart clients
Smart clients blend traits of traditional desktops with browser technology. Windows developers can use new tools to create variations on these themes. 10/17/2005
Microsoft ready for enterprise software competition
Microsoft's array of development initiatives introduced at the PDC position the company to compete well in the enterprise software market, one industry analyst says. The timetable may be ambitious, but Microsoft will likely do better than its competitors think it will. 10/12/2005
Another Grid: DBI Technologies Grid Tools 2.0
Grid Tools 2.0, the latest developer tool recommended by Ed Tittel, is a grid based metaphor for defining tabular layouts that capture, edit, and display program data.
10/11/2005

VSTO and the Tai of the Office object model
In a conversation with Microsoft's Eric Carter and Eric Lippert, the importance of object models is discussed; specifically, a model that can have the same structure a the business model that developers may code against. 9/28/2005
Toolbars bring oft-used functions within easy reach
The latest in Ed Tittel's user interface tools is NetAdvantage Toolbars, a collection of WinForm widgets that work within the .NET framework. 9/20/2005

At the PDC: VSTA to support macro recordings but will work with .NET objects
At the PDC this week, Microsoft continued to expand its array of Office tools with the surprise announcement of Visual Studio Tools for Applications (VSTA). The tool has many similarities to Microsoft's VSTO Visual Studio Tools for Office (VSTO) product, but is aimed at independent software vendors (ISVs). 9/15/2005

At the PDC: Gates shows what's in store for developers in 2006
Bill Gates' keynote address at the PDC highlighted updates of software frameworks and tools like Atlas and the newly introduced Language Integrated Query. Gates also provided a public demo of Office 12. 9/14/2005
On Demand VB Webcast How VSTO changes Office-style development
With Visual Studio Tools for Office, developers have gained a new way to create networked desktop applications that integrate various Office productivity tools. Using programming samples as a guide, 3Sharp Expert Greg Enslow shows you effective ways to improve your users' work experiences in this soon-to-be updated development environment. 8/12/2005
On Demand VB Webcast Using VB.NET and XML to integrate with Lotus Notes
When worlds collide! Learn how you can use Office, SharePoint and .NET to integrate with an IBM Lotus Notes environment. 6/12/2005

On Demand VB Webcast What's new in Visual Studio 2005 Tools for the Microsoft Office System for VB developers?
VB and VBA developers: Learn what's new in Visual Studio Tools for Office. 3/30/2005

Dig Deeper on Visual Studio Tools for Office (VSTO)