News
Stay informed about the latest enterprise technology news and product updates.
Survey: VB .NET has advanced
VB .NET has made significant advances. So has C#. In a recent SearchVB.com poll, VB.NET language use measured at 52.9 percent, while infant C# use hovers at about 30 percent.
Ever since the birth of .NET, Visual Basic has been in tumult. In the spring, SearchVB.com conducted a reader survey to get an idea on where the Visual Basic language is headed – both in terms of how you use tools and what you do with them.
We expected the survey would give us a clearer view of where we are headed, now that .NET is about to go to rev 2.0. Are people moving to VB .NET? If so, how quickly are they moving? How do they view their role as developers? Are the people who work to create business software 'VB heads' first and application developers second? The answers to these kinds of questions might bring the future of VB – a language that has hit a bumpy path -- into focus.
We compiled the results of questionnaires completed by over 100 working developers. These respondents were split about equally between programmers and managers, in terms of the phases of application development with which they were involved. [See Figure1]
We learned that SQL is a big part of the equation, actually outpacing VB6 use by a slight margin. According to the survey, SQL use was at 66.2 percent versus 64 percent for VB6. But, among choices in what most would describe as programming languages, VB6 leads.

Yet, VB.NET has made significant advances. So has C#. In our poll, VB .NET language use measured at 52.9 percent, while infant C# use is at about 30 percent [See Figure 2] From this, one might judge that VB 6 to VB .NET migration is well underway.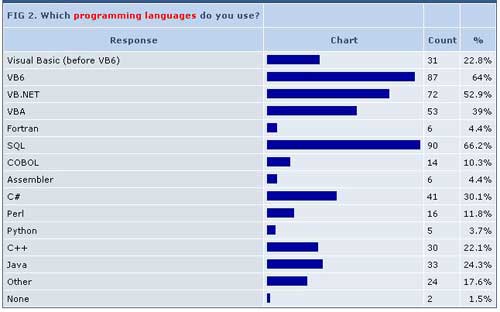 In the VB world, there is more to development than just being a developer. We discovered that most respondents are involved in many phases of development. Yes, 85.3 percent do coding. But 74.5 percent perform requirements gathering, and 73.5 percent are involved in testing and QA. Since the affinity between vendor, tools and OS is so strong in the Microsoft world, we might have expected developers to characterize themselves as "Windows developers." They do – at least, 23.5 percent of them do. But the more commonly cited response was "application developer;" with 44.9 percent of respondents listing that title as the most apt characterization. [See Figure 3]

Surveys as forecasters are something like tea leaves. Different people will see different patterns and gather different results from the same data. We think that VB .NET's advances show that Microsoft has made progress in moving developers to the new platform. But there is still more progress to be made. The fact that VB .NET users' roles span several development disciplines, not just centering on coding, seems evident. Thus, Microsoft's effort to roll out a full-life-cycle software suite under the name of Visual Studio 2005 Team System seems to be a worthwhile path to pursue.
For some years, VB developers comprised the largest block of developers outside of Cobol. Visual Basic was a fairly easy to learn language tool. And it was an essential product in Microsoft's rise in the software industry. Now it is being updated as part of the shift to .NET. IT shops will have difficulty moving ahead if VB developers do not have a role to play. Of course there have been some highly visible complaints about this move. But, the early results would seem to indicate Microsoft has done a decent job of moving the VB army. In any case, at this stage, VB .NET looks to have more chance of succeeding than any of the object-oriented Cobol-friendly languages that were created to try to keep Cobol moving forward.