Silverlight Learning Guide: More References and Documentation
This section of the Silverlight Learning Guide looks at the documentation that has been posted on MSDN.
This Article Covers
RELATED TOPICS
Looking for something else?

TABLE OF CONTENTS


Silverlight Quick Start

Silverlight: Get the software you need

Silverlight articles and blogs

Silverlight 1.0 Release Candidate Tutorials

Silverlight 1.1 Alpha Tutorials

Silverlight and JavaScript Tutorials

More References and Documentation


Silverlight Samples and Case Studies

Silverlight Forums and Community

VISIT OUR OTHER LEARNING GUIDES
| | |
| --- | --- |
| | More References and Documentation |
This section takes a quick look at the Silverlight documentation that has been posted on MSDN, the Microsoft Developer Network. Topics include media playback in Silverlight applications, the Silverlight architecture and the use of RSS. After giving this section a glance, move on to the next section of the Silverlight Learning Guide, which offers case studies and sample code for your enjoyment.

Download this free guide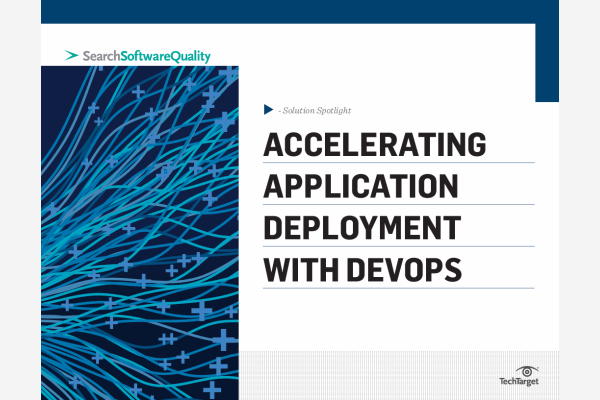 The Benefits of a DevOps Approach
Bringing development and IT ops together can help you address many app deployment challenges. Our expert guide highlights the benefits of a DevOps approach. Explore how you can successfully integrate your teams to improve collaboration, streamline testing, and more.
By submitting your email address, you agree to receive emails regarding relevant topic offers from TechTarget and its partners. You can withdraw your consent at any time. Contact TechTarget at 275 Grove Street, Newton, MA.
You also agree that your personal information may be transferred and processed in the United States, and that you have read and agree to the Terms of Use and the Privacy Policy.

Embeddable media playback with Silverlight
This article shows how to use Silverlight to build a service that can embed video on a blog (or any other Web page). All that is needed is an iFrame to the URL that contains your service, author Laurence Moroney indicates.
Getting started with Silverlight (MSDN)
In this article, Moroney describes how Silverlight fits into the development stack for the next generation of Web applications.
Silverlight for Web media scenarios (MSDN)
This Microsoft white paper outlines the benefits, features, and usage of Silverlight for the delivery of rich audio and video experiences on the Web.
Silverlight Architecture Overview (MSDN)
In this article, Barak Cohen looks at Silverlight's architecture and how it fits into Microsoft's Web application development technology stack.
Using Silverlight and RSS to build a 'Hero Bar' with ASP.NET (MSDN)
A "hero bar" appears at the top of certain Web pages and provides a frequently refreshed view of new content. In this article, Moroney shows how to use RSS to keep this content updated.
---
*** Go on to the next section of the Silverlight Learning Guide: Samples and Case Studies
Dig Deeper on Silverlight and Expression application development