Problem solve
Get help with specific problems with your technologies, process and projects.
Visual Basic Programmer's Journal Salary Survey released...
The Visual Basic Programmer's Journal Salary Survey has been released. Read on...
Looking for something else?

Download this free guide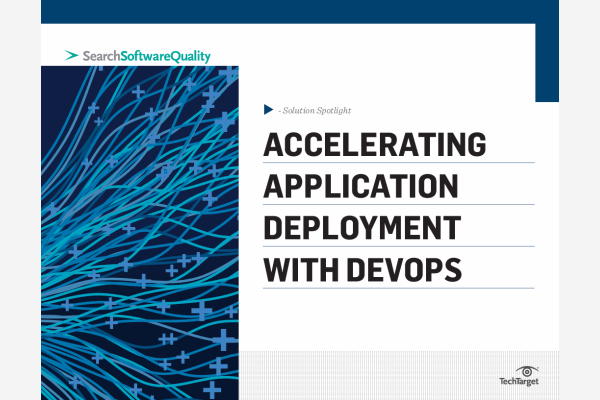 The Benefits of a DevOps Approach
Bringing development and IT ops together can help you address many app deployment challenges. Our expert guide highlights the benefits of a DevOps approach. Explore how you can successfully integrate your teams to improve collaboration, streamline testing, and more.
By submitting your personal information, you agree that TechTarget and its partners may contact you regarding relevant content, products and special offers.
You also agree that your personal information may be transferred and processed in the United States, and that you have read and agree to the Terms of Use and the Privacy Policy.

Visual Basic Programmer's Journal Salary Survey released...

In my opinion, the best Visual Basic publication is the Visual Basic Programmer's Journal. I recommend it highly to my Visual Basic students as a source of great information on Visual Basic development. According to the latest figures released from Magazine Retailer, the Visual Basic Programmer's Journal has the highest paid circulation sales numbers, and is the largest paid magazine in the world devoted to Windows development. Because of this, I place a lot of trust in their semi- annual salary survey. You can view the autumn version yourself at:

http://careerlink.devx.com/articles/ss0900/ss0900-1.asp

According to the this latest Survey, Visual Basic developers earn an average base salary of $65,500 per year. It should be noted that the survey factors in extra pay such as bonuses and profit sharing, raising that average to $75,500 in total compensation.

Some highlights of the survey:

-Developers in San Francisco and New York earn much more than the average compensation--but bear in mind that the cost of living is much higher there.

-Experience pays off. The average salary for developers with less than one year's experience is $43,140--for developers with 6-8 year's experience it is $74,539. That's quite a difference, but if you've been reading my previous tips, this shouldn't surprise you.

-Microsoft Certifications are beginning to carry some weight--Microsoft Certified Professionals (MCP's) and Microsoft Certified Solutions Developers (MCSD's) made substantially more than those without a Certification. Definitely something to consider!

-VB skills alone are fine and will pay well--but those developers who marry their VB skills with another hot technology such as Java or XML do much better. In fact, VB Developers who know XML earn about $10,000 more than the average Visual Basic developer.

-Not surprisingly (to me anyway), at the top of the pay scale are Independent Consultants. Independent Consulting will be one of several recurring themes of my tips.

In case you're wondering how VB stacks up against Java, here is a link to a first-ever Java Salary Survey by the publishers of Visual Basic Programmer's Journal.

http://careerlink.devx.com/articles/ss0600/ss0600-1.asp

I think the results will bear out what I tell my students--learn Visual Basic, then turn your attention to Java as a second language (and based on the salary survey, it looks like you should add XML to that mix also).

-------------------------------------------------------------------
-Editor's Note for additional Career resources-

Visit the searchVB.com Career Center:

http://searchVB.techtarget.com/careers/0,,,00.html

Visit the searchVB.com Editor's Picks > Careers & Training: http://searchVB.techtarget.com/bestWebLinks/0,,sid8_tax49e,00.html
--------------------------------------------------------------------
Written by John Smiley, MCP, MCSD and MCT, author, and adjunct professor of Computer Science at Penn State University in Abington, Philadelphia University, and Holy Family College. John has been teaching computer programming for nearly 20 years.

John Smiley is president of Smiley and Associates, http://www.johnsmiley.com/smass/smass.htm a computer consulting firm located in New Jersey.


Dig Deeper on Visual Basic 6 programming language