Problem solve
Get help with specific problems with your technologies, process and projects.
VB 2005 reaches out to VB 6.0 developers
If you're a die-hard VB 6.0 fan, you'll be happy to know that VB 2005 offers plenty of form, menu and toolbar improvements, Ed Tittel writes.
Looking for something else?
Those who are comfortable with Visual Basic 6.0 and inclined to stand pat might want to take a look at a new addition to the Microsoft Visual Basic Developer Center. This page is entitled What's in Visual Basic 2005 for the Visual Basic 6.0 Developer. In fact, it's definitely worth a visit simply to verify that the actual text on that (Microsoft Web) page really does begin with the following paragraph:

Download this free guide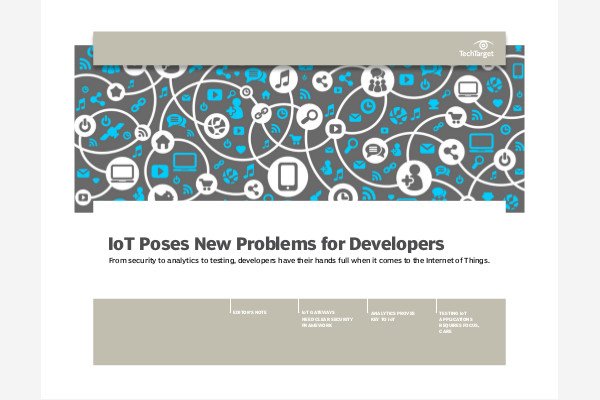 Download: The Developer's Guide to IoT
The IoT world may be exciting, but there are serious technical challenges that need to be addressed, especially by developers. In this handbook, learn how to meet the security, analytics, and testing requirements for IoT applications.

By submitting your personal information, you agree that TechTarget and its partners may contact you regarding relevant content, products and special offers.

You also agree that your personal information may be transferred and processed in the United States, and that you have read and agree to the Terms of Use and the Privacy Policy.

The Microsoft Hype Machine has already started turning up the volume on Visual Studio 2005. The question is, if you work primarily in Visual Basic 6, you're happy with Visual Basic 6, and you've looked at .NET and not found anything you really need, should you even care about this new release of Visual Studio 2005? Considering that MSDN has been nice enough to host this article, you can probably guess the conclusion that I've reached. But bear with me, there are some great things coming for the Visual Basic 6 developer.

Refreshing honesty aside (and kudos to author and Microsoft employee Scott Swigart for telling it like it is), you'll actually find some interesting information in this article if you really are a die-hard VB 6.0 aficianado.

Among other things, Swigart makes a compelling case that what was broken in Visual Basic .NET (vis-À-vis what worked in VB 6.0 and not in VB.NET) has mostly been fixed. He also shows numerous ways in which the 2005 versions of Visual Studio and Visual Basic take good ideas and capabilities from VB 6.0 and kick them up a notch or two, especially those having to do with placing, sizing, and lining up controls inside forms.

Better yet, he makes a great argument (to use his own words) that "…the form designer in Visual Studio 2005…[is]…nothing short of awesome." He talks about the differences between a grid-based model (the old way) and snap lines (the new way), better defaults and size choices, and other ways that will help boost your design and implementation productivity.

My favorite part of the article addresses how VB 2005 blows the doors off VB 6.0 when it comes to working with menus and toolbars, especially in terms of how what Microsoft had as its disposal completely outstripped what VB 6.0 delivered (this goes further to explaining the huge aftermarket for toolbars and menus than anything else I've seen or read). Suffice it to say here that VB 2005 lets you do in your applications what Microsoft does—exactly so.

If you keep reading in this article, you'll also find interesting discussions of other enhanced features including auto-correct, the Add Procedure tool, pointers to free stuff (always a good thing for developers), and a terrific table of key My namespace commands that will make any savvy VB developer drool with lust. Dig in and enjoy!
---
Ed Tittel is a full-time writer and trainer whose interests include XML and development topics, along with IT Certification and information security. Send comments, queries, or suggested topics or tools for review to Ed at etittel@techtarget.com.
Dig Deeper on .NET Framework 2.0 and Visual Studio 2005 development