Problem solve
Get help with specific problems with your technologies, process and projects.
Master Pages in ASP.NET 2.0 drive uniform design
One of ASP.NET 2.0's most notable advancements is the Master Page, which lets developers create consistent headers, footers and logos across an entire Web app.
This Article Covers
RELATED TOPICS
ASP.NET 2.0 offers many well-documented enhancements, from security controls and site administration tools to, of course, code reductions. For anyone building a complex Web application for customers or employees, the most notable improvements can be found in the page framework. Here Microsoft has gone to great lengths to ensure that developers need to build something once and only once.

Download this free guide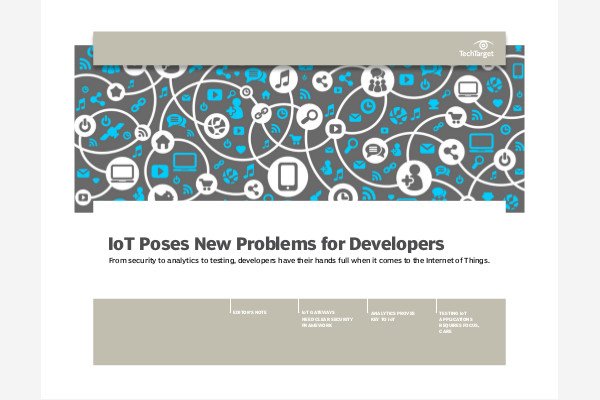 Download: The Developer's Guide to IoT
The IoT world may be exciting, but there are serious technical challenges that need to be addressed, especially by developers. In this handbook, learn how to meet the security, analytics, and testing requirements for IoT applications.

By submitting your personal information, you agree that TechTarget and its partners may contact you regarding relevant content, products and special offers.

You also agree that your personal information may be transferred and processed in the United States, and that you have read and agree to the Terms of Use and the Privacy Policy.

The Master Page construction aptly reflects this notion. A master page consists of common content, such as the banner across the top of a Web application, and a spot for content placeholders. (Content pages, conversely, reference master pages and fill the placeholders.)

"User interface design is left to the designers," said Patrick Hynds, CTO, CriticalSites, during a demo at Microsoft Launch event in Boston. "It's not something we have to wrap our minds around every day."

As outlined in the MSDN article Master Pages in ASP.NET 2.0, content pages have the same .aspx extension as typical ASP.NET files.

There are a couple differences, though. Everything on a content page needs to be contained within Content controls, which map content areas on the pages to the appropriate areas marked by a master page's ContentPlaceHolder control. In addition, a content page has to be associated with a Master Page through an attribute of the <%@ Page %> directive.

Content development gains a few timesavers, too, as Tony Pino of the Boston .NET User Group demonstrated when the group met in January. The easiest way to control and update an app, Pino said, is through themes.

Themes consist of a style sheet, images and a skin file, which defines styles for a specific server control (like the width of a text box) but does not affect the overall design of a Web app. Skins work well for defining advanced controls and collections and for displaying foreground images that can't be controlled by cascading style sheets, as Jeff King explained at Tech Ed.

Themes can be defined on a per-page basis, and a developer can always override a page's theme, Pino said. Also keep in mind that themes should not include global images or style sheets such as Print or Shared.

This MSDN article by Stephen Walther, Creating Web Application Themes in ASP.NET 2.0, offers more insight into constructing themes, deploying skins and incorporating both into cascading style sheets.

Dig Deeper on ASP.NET development best practices