Problem solve
Get help with specific problems with your technologies, process and projects.
Book excerpt: An introduction to ADO.NET 2.0
This excerpt offers Visual Basic programmers an introduction to what's new in ADO.NET 2.0.
This Article Covers
RELATED TOPICS
ADO.NET is the primary API for data access within the .NET Framework. The set of classes that are used for data access did not change much in the upgrade from ADO.NET 1.0 to v2.0; what did change, though, was the process for database application development.

Download this free guide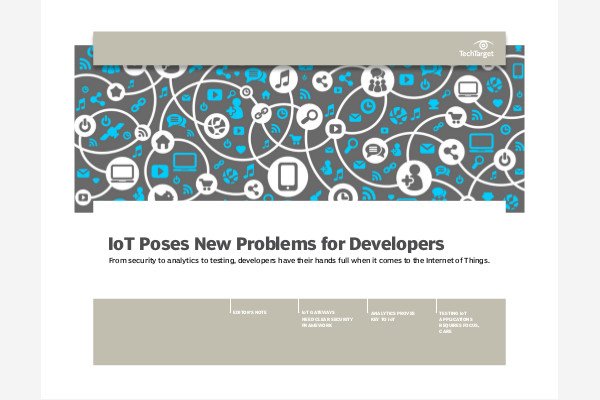 Download: The Developer's Guide to IoT
The IoT world may be exciting, but there are serious technical challenges that need to be addressed, especially by developers. In this handbook, learn how to meet the security, analytics, and testing requirements for IoT applications.
By submitting your personal information, you agree that TechTarget and its partners may contact you regarding relevant content, products and special offers.
You also agree that your personal information may be transferred and processed in the United States, and that you have read and agree to the Terms of Use and the Privacy Policy.
Murach's ADO.NET 2.0 Database Programming with VB 2005 introduces developers to ADO.NET 2.0, illustrates the steps necessary to build WinForms and ASP.NET database applications and explains how to manage database processing, data retrieval and database management.
Chapter 2, An introduction to ADO.NET 2.0, discusses datasets, which should be familiar to ADO.NET programmers, and the four data providers that come with .NET 2.0 and allow programmers to work directly with databases. The chapter ends with a brief look at the way ADO.NET applications are structured.

Read "An introduction to ADO.NET 2.0" in this PDF file
---
Excerpted from Murach's ADO.NET 2.0 Database Programming with VB 2005 (ISBN: 978-1-890774-43-1) by Anne Boehm.
Copyright © 2007. Published by Mike Murach & Associates, Inc., and available at your favorite book seller. Reprinted with permission.
---
More on ADO.NET programming
Tip: What's ahead for ADO.NET in Visual Studio 2008 (SearchVB.com)
Book excerpt: ADO.NET 2.0 summarized (SearchSQLServer.com)

Dig Deeper on ADO.NET development