News
Stay informed about the latest enterprise technology news and product updates.
Developers make 'Connections' at VB show
Under nothing but blue skies and unseasonably warm, triple-digit heat, the hottest action for Visual Basic developers this week is at the VB Connections conference in Scottsdale, Ariz. Programmers showed up with two goals: to enhance their VB skills and get a feel for the technology impacting the community.

Download this free guide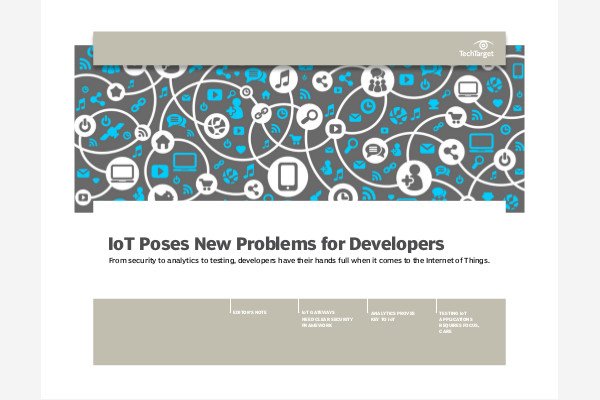 Download: The Developer's Guide to IoT
The IoT world may be exciting, but there are serious technical challenges that need to be addressed, especially by developers. In this handbook, learn how to meet the security, analytics, and testing requirements for IoT applications.

By submitting your personal information, you agree that TechTarget and its partners may contact you regarding relevant content, products and special offers.

You also agree that your personal information may be transferred and processed in the United States, and that you have read and agree to the Terms of Use and the Privacy Policy.

The show takes a three-tiered approach, with ASP Connections and VisualC++ Connections taking place under the same roof as VB Connections.

"Developers using these fast paced technologies need to have extensive knowledge in many facets of development," said Joan Novino, a VB Connections coordinator. "That is why our approach is not just VB-centric. Developers can't just know VB to get ahead in this environment. They need to know a lot more."

But developers attending the conference also feel the individual technologies are getting their due.

"The hard-focused seminars really pinpointed the VB aspects or the ASP aspects of development very nicely," said Target stores developer Jeffrey Whitney.

Only about 1,000 developers are attending, making this an intimate enough setting for them to form deeper-rooted contacts.

"I have made a lot of good friends through conferences, many of whom I correspond with whenever I have an ASP problem. The people I have met here are usually the best resources for answers to my problems," said Kathie O'Shea, an ASP developer at Phoenix, Ariz.-based Rodel, Inc.

Another major part of this VB conference is looking ahead to technologies that will affect developers in the future.

"About 25% to 50% of the show is directed at letting people know what they have to look forward to as developers," said Novino. "What we try to do for the developer is give them a sense of what they need to know now and a vision of future technologies."

"Being here and seeing what is on the horizon is a major reason why I come to shows like VB Connections," said Maryland-based developer Scott Harrison. "My team of 15 developers usually splits up and covers most of the conferences offered in the year. Then we come back and compare technologies and see what, if any, will be useful in our projects."

A host of developer heavyweights took the conference stage, including Microsoft's Dave Medlen, who gave the keynote address on .NET, Tony Goodhew, Ken Spencer and Ken Getz.

The seminars gave developers a better feel for the technology.

"One of the SOAP demos not only showed me some things I was unaware of, but it gave me a better understanding of SOAP and how is it implemented," according to Target stores developer Rob Gottschalt. "The great thing about these speakers is that they showed us how the theories are actually put into practice."

"What a conference like this does is remove the drill-down process," said ASP101 CTO John Peterson. "You know everyone is pre-qualified to use your site and it's nice to get a knowledge and feel for the audience."

"As opposed to a larger conference like a TechEd, this venue is more technically focused and all of the booths and lessons are VB/ASP-related," developer Whitney said. "But at a TechEd you might run into an NT booth or a LAN booth."

For a full listing of future VBConnections conferences and other developer-related shows, visit: http://www.devconnections.com

.
Dig Deeper on Win Development Resources