News
Stay informed about the latest enterprise technology news and product updates.
Q&A: Why Microsoft TSF 2010 improvements and WPF base matter to Visual Studio developers
What's changed in Microsoft Team Foundation Server 2010 and why are those changes important to Visual Studio 2010? Also, what's the significance of part of Visual Studio 2010 being built on Windows Presentation Foundation? Microsoft MVP Steven Porter explains.
Installing Microsoft Team Foundation Server (TSF) won't drive Visual Studio 2010 developers crazy anymore, thanks to improvements in TSF 2010, said .NET and Windows development consultant Steven Porter in a recent SearchWinDevelopment.com interview. He also talks about TSF updates and the plugin capabilities that could result from Visual Studio 2010's being partly built on Windows Presentation Foundation (WPF) in this Q&A.

Download this free guide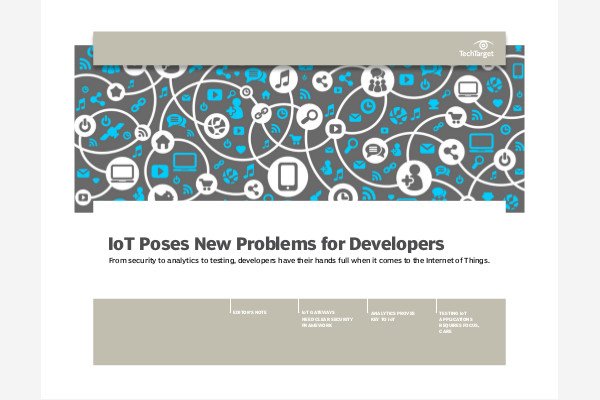 Download: The Developer's Guide to IoT
The IoT world may be exciting, but there are serious technical challenges that need to be addressed, especially by developers. In this handbook, learn how to meet the security, analytics, and testing requirements for IoT applications.

By submitting your personal information, you agree that TechTarget and its partners may contact you regarding relevant content, products and special offers.

You also agree that your personal information may be transferred and processed in the United States, and that you have read and agree to the Terms of Use and the Privacy Policy.

Microsoft MVP Porter is a technical director at Wintellect, a consulting and training firm that specializes in .NET and Windows technologies. His responsibilities include overseeing the design, development, and implementation of systems based on Microsoft technologies. He also writes technical articles for SearchWinDevelopment.com on Microsoft Visual Studio, Silverlight and WPF topics.

Read part one of Steven Porter's interview.

What is the WPF scenario in Visual Studio 2010?
One of the cool things in VS 2010 is that part of the new release was written in WPF. It's not only good for this application, but also really good for WPF because it is Microsoft dog-fooding its own technology. So, because they're using it for Visual Studio, that means that WPF is really going to get better and better as Microsoft improves products.

In the last release candidate and then the RTM release, the performance has been stellar. I would say it's at the very least on par, if not even better than, 2008. That's really saying a lot, given all of the additional functionality and additional support that Microsoft has added to this release. I really see this as a major milestone for Visual Studio. Could this WPF-based approach lead to greater extensibility?
Absolutely. In the past, it's not been easy to write plugins or add-ons for Visual Studio. It's certainly been possible, and a lot of us have done it. But with WPF –- and maybe not right away but certainly down the line –- I think we're going to see that it's going to be a much easier model for writing plugins for Visual Studio. That's just because WPF already has that add-in concept, and it has an add-in or plugin pipeline that allows you to develop those plugins to an interface. And it's already there in WPF. That's just going to make it easier and definitely more standardized for developers to write plugins for Visual Studio.

It'll be great for somebody who's used to writing a plugin for another WPF application –- maybe one of their own custom apps -– and then they can just quite easily write a plugin for Visual Studio, as well. Team Foundation Server was also updated in a pretty big way. What are some TFS highlights?
The biggest highlight out of the 2010 release of TFS has to be the installation experience.

The first time I installed TFS was the very first beta, and it was just a brutal two-week long experience. The instructions were split within about four compiled help modules. The prerequisites weren't really quite known. Now, I think we've really just gotten to the point where installing TSF -- even though there are a lot of components to it and it can be a much longer install –- has gotten to the point where it's easy. The documentation is great. If you're doing just a single-server install, either to try out for yourself or use in a smaller shop, it's almost as easy as installing something like Microsoft Office or Visual Studio. It's really just a click install. So I think the installation experience is definitely something that everybody is very psyched about. Have there been improvements in TSF management features?
You've got what they're calling lab management. On the TFS side, it gives you a much richer QA experience. And it's going to help you support a lot richer testing from just code testing, unit testing and all the way up to load testing. And that's going to be a real benefit, too, for Agile shops who want to incorporate QA into their Agile development environment. Then there are some smaller things that Microsoft added to TFS, some things that really make a difference. TFS 2010 now has the concept for project groups, so projects can be grouped together and managed together. That's a really big deal from an administrative standpoint. It makes things much easier for those of us who are managing large groups of projects.
Dig Deeper on Visual Studio Tools for Office (VSTO)