News
Stay informed about the latest enterprise technology news and product updates.
.NET Micro Framework securing device software -- and attracting vendors
Recent advances for the .NET Micro Framework include a Service Pack release and third-party ports onto ARM processers.
Looking for something else?
The rush of .NET activity this year largely obscured the fact that Microsoft formally launched its .NET Micro Framework, which targets devices sensor nodes, health monitoring equipment, remote controls and robotics.

Download this free guide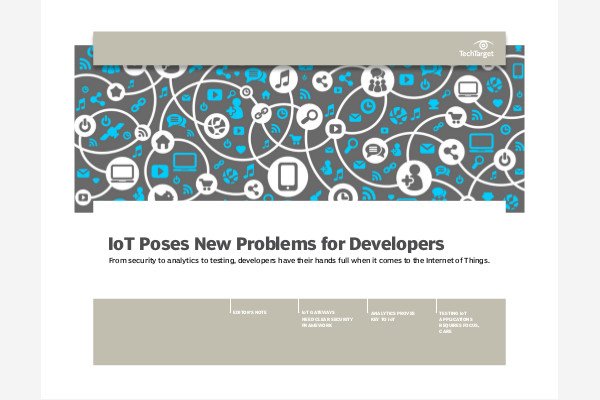 Download: The Developer's Guide to IoT
The IoT world may be exciting, but there are serious technical challenges that need to be addressed, especially by developers. In this handbook, learn how to meet the security, analytics, and testing requirements for IoT applications.

By submitting your personal information, you agree that TechTarget and its partners may contact you regarding relevant content, products and special offers.

You also agree that your personal information may be transferred and processed in the United States, and that you have read and agree to the Terms of Use and the Privacy Policy.

Advances for this framework have continued, with a Service Pack release earlier this year. Meanwhile, microcontroller manufacturers Atmel Corp.and NXP Semiconductors have subsequently ported the framework to their ARM processor lines.

Last month, EmbeddedFusion began to offer versions of its CPUs that can directly execute the Microsoft Intermediate Language, or MSIL. Such advances could lead to expansion within the ranks of embedded designers, as an army of Visual Studio developers using a subset of C# libraries can now program a certain class of devices. Using the .NET Micro Framework, according to EmbeddedFusion, means there is no need for low level assembly language or other proprietary languages.

We caught up via e-mail with Microsoft's Jonathon Kagle, senior program manager, and asked about the role of the .NET Micro Framework.

He told us the .NET Micro Framework extends Microsoft's embedded story -- which includes the .NET Compact Framework, Windows CE and Windows XPe -- to emerging small, simple devices. He characterizes these as single-or limited-function devices based on low-cost 32 bit-processors with tight constraints on memory and battery power.

"The .NET Micro Framework is a complementary solution for low-end embedded devices too resource-constrained to run other Microsoft embedded platforms. It enables Microsoft to enter new embedded vertical [markets]," Kagle wrote.

In September, Microsoft released the .NET Micro Framework 2.0 Service Pack 1. The pack helps developers prevent unsigned firmware or application code from being installed on a device. That is useful because, with software on devices in the field, there is always the chance that it can be hacked, reverse-engineered, and so on.

"The .NET Micro Framework includes a flash memory management tool called MFDeploy that can be used to copy the .NET Micro Framework firmware and software applications to devices, and to optionally sign code to prevent the deployment of unauthorized software to devices," Kagle said.

Besides improved firmware control, SP1 also lets developers generate bitmap fonts for applications, for more flexibility in interface design and better localization support.
Dig Deeper on .NET mobile application development