News
Stay informed about the latest enterprise technology news and product updates.
.NET Micro Framework: Ubiquitous computing for smart devices
With the .NET Micro Framework, Microsoft aims to make it easier to develop the applications that run on smart devices like watches, sensors and even household appliances.
Looking for something else?
TECHNOLOGIES
To imagine the .NET Framework's next home, think small and get away from your desk. Or, think globally, act locally and check your wireless connection.

Download this free guide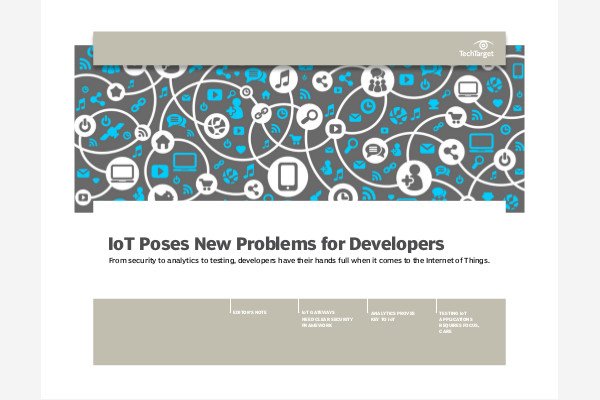 Download: The Developer's Guide to IoT
The IoT world may be exciting, but there are serious technical challenges that need to be addressed, especially by developers. In this handbook, learn how to meet the security, analytics, and testing requirements for IoT applications.
By submitting your personal information, you agree that TechTarget and its partners may contact you regarding relevant content, products and special offers.
You also agree that your personal information may be transferred and processed in the United States, and that you have read and agree to the Terms of Use and the Privacy Policy.
As the world begins to fill with smart devices, Microsoft is taking the plunge with the .NET Micro Framework.
We're trying to change the game for the embedded development environment.
Colin Miller
product unit manager, .NET Micro FrameworkMicrosoft
This version of the framework targets devices that are too small for the .NET Compact Framework -- watches, sensors and just about anything else that one would want to connect to a Web service.
"We're trying to change the game for the embedded development environment," Colin Miller, product unit manager of the .NET Micro Framework, said in an interview at Tech Ed 2007. "This show [was] the first move toward the developer division. We're trying to open up this environment to the broad set of .NET desktop developers."
It is a game that was overdue for change, Miller noted. When he began programming, both the PC and the embedded device both housed 8-bit processors. The desktop, and the capacity for developing applications that run on it, has evolved dramatically, but the same is not true of smart devices.
"It took so long for these devices to come to market, because so much of the development was done in-house and the software and the hardware were interdependent," Miller said.
Bringing this development into the .NET Framework, which places a version of the CLR on the device itself, shortens the development process considerably.
Thanks to emulation, developers define the smart device with which they are working, then create the application using C# -- the VB version of .NET Micro is in beta evaluation -- on simulated hardware within Visual Studio 2005. To debug and deploy the app, developers connect the device itself to their machine via USB, serial cable or TCP/IP. The end result is an app that requires roughly 500KB of RAM and about 512KB of flash memory.
Smart devices: The sky's the limit
The possible applications of the .NET Micro Framework and smart devices is, with only minor exaggeration, limited only by one's imagination.
At Tech Ed 2007, Microsoft announced two implementations of .NET Micro.
Analog Devices' Blackfin, a multimedia processor for digital signals, is supporting the .NET Micro Framework, and the company's tools for Blackfin developers will support the .NET Micro SDK. In addition, Crossbow Technology has unveiled Imote2.Builder, a toolkit for developing wireless sensor applications that is based on .NET Micro.
Miller said both announcements, particularly the latter, demonstrate the emerging ubiquity of smart devices.
Currently there are numerous industrial uses for sensor networks that, say, monitor the temperature and vibration level of factory-floor machines. Such networks, though, will soon appear in the home -- for convenience, so one can monitor the progress of a load of wash without trudging down to the laundry room, and for monetary and environmental savings, to shut off a light if no one enters an empty room after a few minutes.
"There's a big opportunity for these devices to talk to each other" as a sort of "smart home power metering," Miller said. "You get the devices connected, and it's a distributed computing environment."
Retail tie-ins are quite possible as well. RFID, or radio frequency identification, has been touted as an alternative to the bar code and, thus, a more effective means of inventory management. In addition, Miller said, there is "near-field communication," in which a frequent coffee shop customer could swipe his phone at a sensor and have his usual order waiting for him by the time he reaches the counter.
Dig Deeper on .NET mobile application development