News
Stay informed about the latest enterprise technology news and product updates.
At Tech Ed: What VSTS brings to the development team
The pressure to release an application can cause developers to skimp on testing. Features within Visual Studio Team System address this fault well, one Tech Ed expert said.
Looking for something else?
TECHNOLOGIES

PRODUCTS
Software development, like riding a bicycle or any other methodical process, should get easier as time progresses. Brian Randell believes development actually gets harder.

Download this free guide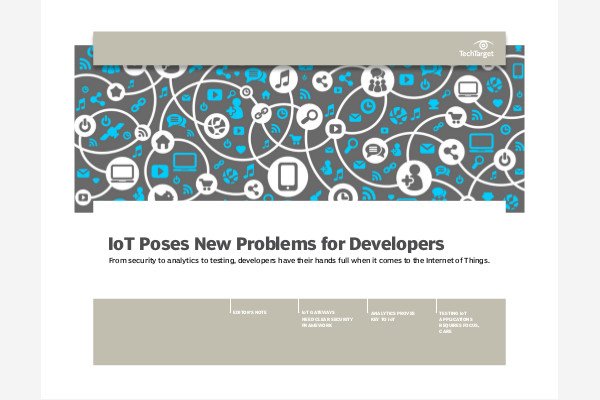 Download: The Developer's Guide to IoT
The IoT world may be exciting, but there are serious technical challenges that need to be addressed, especially by developers. In this handbook, learn how to meet the security, analytics, and testing requirements for IoT applications.

By submitting your personal information, you agree that TechTarget and its partners may contact you regarding relevant content, products and special offers.

You also agree that your personal information may be transferred and processed in the United States, and that you have read and agree to the Terms of Use and the Privacy Policy.

Give end users one look at Office 2007, Randell argued at the beginning of his Tech Ed 2006 session, "Visual Studio 2005 Team Edition for Software Developers," and they will expect nothing less than that in their applications. That, combined with expectations of a more public process for beta software releases, puts the onus on developers to crank out applications quickly.

One pitfall of such deadline pressure is that it often causes developers to skimp on application testing. If a development team uses only one error detection method, then it can expect a success rate of no more than 75%, with an average of only 40%, said Randell, senior consultant, MCW Technologies.

"You need to have multiple tools in your tool belt to solve the problem. Unit testing is a great method, but can't be the sole method," Randell continued.

That is where Visual Studio 2005 Team System enters the picture. The product gives architects, developers and testers collaboration tools for the development life cycle. Unit testing is part of the package; so are tools for debugging, visualizing and refactoring code, Randell said. (Exactly what features are available depends on what edition of Team System an IT pro is running. Details can be found in our VSTS Learning Guide.)

Mere testing is not enough for an application because, by definition, all testing does is find errors within code, Randell said. Debugging, for example, identifies what went wrong with a string of code and how it must be fixed.

Visualizing offers a graphical contrast to the typical view of code, while refactoring simplifies the structure of code, thus making it easier to read and maintain.

Randell also pointed out a few other testing elements of Visual Studio Team System. They include the following:


Code coverage: This determines which bits of code are executed, and which are not, when an applications runs.

The code analysis property page: This includes 11 groups of rules that search for code defects in an applications. Developers have the ability to select application-critical rules and skip those that do not apply.

Data-drive testing: This allows a developer to execute a test once per row in a data column.

Moreover, all the data generated from testing, refactoring and the like can be published to Team Foundation Server for an entire project team to see.
Dig Deeper on .NET Framework security best practices